Spinal Fractures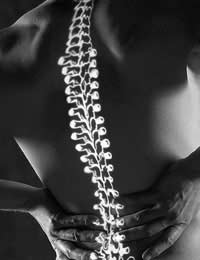 Spinal fractures are usually the result of a slip, fall, assault or road traffic accident. Major fractures can cause very detrimental long-term problems if left undiagnosed and untreated.
Spinal fractures cause spinal instability, high levels of pain, an increased risk of spinal cord injury, which may cause paralysis, and a lack of mobility.
People who suffer with osteoporosis or play high impact sports carry an increased risk of suffering with a spinal fracture.Many 'stable' fractures are treated without surgery as the risks of surgery are sometimes greater than by not having it.There are three main types of spinal fractures; these are compression fractures, burst fractures and fracture dislocation.
Compression Fractures
A compression fracture is when the vertebra collapses and becomes weakened by a series of small fractures throughout its body. This causes a lot of pain and a loss of height in the individual due to the collapsed vertebra.
There are two main treatments for a compression fracture; a vertebroplasty and a kyphoplasty.
A vertebroplasty involves the fixing of the vertebra, including those with threatened fractures, by injecting a cement-like substance through a fine needle into the fractured area. This is performed with the use of imaging equipment in order to keep skin incisions to a minimum.
A kyphoplasty is similar to a vertebroplasty, with the additional use of a balloon device being introduced to the bony segment which creates a space for the cemented mixture to go in. It is a relatively new procedure but results are looking promising for the regular use of this procedure.
Burst Fractures
A burst fracture is like a compression fracture with the additional consequence of having the fractured bony segments shatter and displace is all directions. Usually occurring as a result of a hard fall or car accident, the vertebra may be totally crushed. It is a serious and highly painful condition, and risks stem from having numerous shards of fractured bone in the free spaces around the spinal cord. There is a high risk of neurological damage possible including paralysis. Patients who are suspected as having a spinal burst fracture should never be moved until professional help has arrived.
Treatment for a burst fracture includes immobilisation and stabilisation with the use of a back brace or body cast, which can be worn for 3 months until the fractures have healed, or with a surgical procedure known as a spinal fusion. A spinal fusion involves the orthopaedic surgeon stabilising the spine by uniting two bony fragments with the use of metal screws, rods, cages and hooks. This procedure is done via a suitable incision and any loose fragments of bone can be removed.
Fracture Dislocations
These are similar to the other types with the addition of having two articulated surfaces (joint surfaces), being displaced from one another. The basic treatment for this is also by performing a spinal fusion.
Spinal fractures can be very serious and need immediate medical attention. If a fracture is suspected, the person should not be moved and not given anything to eat or drink in case surgery is required.
You might also like...
I'm Am pregnant 32 weeks and when I was 25wee&6days I fall at work & since then my back is giving me problems I can't sit or walk stand ,,,,,, I have no sleep at night and the fact that I can't take tablets only parasitamol it's not even helping me ? What can I do or waft you think it is :-(??
Baer
- 31-Jan-14 @ 5:28 PM
i have a collapsed vertebra would a corset or any other body support be of any use to relieve the pain
FATSAM
- 22-May-12 @ 7:03 PM
i,ve told i have a broken vertebra and cant operate because of in same place i,ve been operated before , have suggested i have a cerment injection what do you think
dors
- 28-Oct-11 @ 4:32 PM
question I had vertebplasty on L3 an L-5 in which their was a big!!! problem cement leaked into the canal and L-5 has now cracked,I had fusion surgury but have not been able to grow bone and the screws backed out, now the hardware is being removed in 2 weeks. My question is can L-5 vertebra be removed andsomehow attached to s-1 . T10 down to s-1 have all been fractured and they all are deformed and the low back pain is just about unbearable at this point! any ideas thankyou