Tilted Pelvis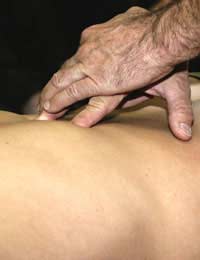 What is Tilted Pelvis?
Tilted Pelvis is a condition that affects a great many people worldwide and can be brought about as a result of a number of factors that are directly related to the sufferer's lifestyle. Many people who have jobs that involve sitting for long periods of time or indeed walking or running for long periods of time are prone to suffering from the condition as too are people of a larger body mass.Tilted Pelvis is also referred to as Pelvic Obliquity.
There are many different types of back pain and it is important for your doctor to try and establish as best he or she can exactly what is causing the particular back pain you are enduring.
Identifying Tilted Pelvis
In order for your General Practitioner to identify and properly diagnose Tilted Pelvis there are a few rudimentary examinations he or she will carry out.
The first of these is to measure the length of the patient's legs. Many sufferers of Tilted Pelvis have acquired the condition because of a difference between the length of their legs, which leads to their balance being affected and thus additional weight being put on one side of the pelvis more than the other. This of course might not be something that the sufferer is aware of – and indeed many around them might not be either – but this difference in leg length, no matter how small, can make a few millimetres seem like a huge gap. This visible difference in leg length is known as an anatomical leg length discrepancy.
Functional leg length is also measured. This, as the name suggests, is the length of the patient's legs when they are in use. These measurements are normally taken when the individual is lying down (supine) and in a seated position. As we have already touched on sufferers of Tilted Pelvis are often people who spend long periods of time in a seated position and as such this test is a good means of identifying the problem.
This difference in the length of the legs will cause an imbalance and will give the appearance – in some but not all cases – that the sufferer is leaning to one side slightly. In actuality it is the spine that is off balance and as the condition grows over the years so to can the appearance of the tilt.
Tenderness and of the iliopsoas muscles will often follow this tilt and these effects are felt more by the sufferer when they are in the supine position; for example when they go to bed or simply stretch out.
Chronic hydration can also be a factor in this condition but it is important that your doctor carry out all the relevant examinations and tests as chronic hydration can also be a contributing factor in other back problems as well.
Treatment for Tilted Pelvis
There are several different ways in which this condition can be treated. A Chiropractor can carry out what is known as a Spinal Manipulation – which is the process of twisting and turning the spine – to try and alleviate the problem. This method has proved effective but it is worth mentioning that it should only be carried out by a trained and licensed Chiropractor.
Heat treatments can also be used – the application of a warm gel or warm pouches to the affected areas can have healing effects and reduce muscle inflammation and spasms.
MFR – or Myofascial Release Treatments – can be used; these treatments are the manipulation of the muscles in and around the affected area and again should only be carried out by a licensed and trained practitioner. These techniques are similar to that of massage but it must be stressed that it is not a massage and is used to equalise muscle mass.
All of these treatments work well but it is important to consult your doctor if you are suffering – or think – you are suffering from Tilted Pelvis. It is again worth nothing that the problem can become more severe as time goes on and if left untreated can cause the sufferer a great deal of pain and distress when walking.
You might also like...
I have now been suffering realy bad diabolical pain in my right hip & down my leg & i have used just about all the gels that are available, plus lots & lots of paracetamol & Codeine tablets plus Ibuprofen tablets which relieve the pain for a short while but once the effect of them has worn off my pain returns with vengence & I am finding it very difficult to walk, sit or lay down in bed. so much so that in one week i have only been able to get a total of 3 hours sleep, so i am very tired So any advice would be helpful. MOTORMAN.
motorman
- 13-Nov-17 @ 9:21 AM
I slipped a disc in 2004, with other complications, twist to the spine, pelvis out of alignment, no feeling in both feet, dehydrated discs from the LS1 to the LS5 .. The left side of the body is weaker than the right side, I tend to drag the left leg as it gets tired quicker than the right, have less feeling in the left side.Have had MRI scans(2), acupuncture, tens machine, been to Physio, all to no avail.Have had radioactive dye to test left leg reactions, reflex's and movement of the left leg, (kick reflex). Have been trying to work(light duties) but have had to give it up due to pain.Wondered if anyone else had similar symptoms & how do they manage with the pain.Also wondered if they claim Disability Benefit, & how long did it take them to be believed.
My pelvis looks weird I have more fat on one side more than the other
452
- 29-Jan-16 @ 6:27 PM
I have just been reading your page regarding up lift of the pelvis, i would like some advice on the mater . Where would i go to get this type of physical problem resolved from. I live on the bd12 post code. i have been to see my local physiotherapy center in wyke. But no success.Thank you farooq khan.
farooq
- 21-Mar-14 @ 4:41 PM
A tilted Pelvis can also cause knee problems in the leg that is the shortest. I have noticed a lot of pain on my right knee do to my right leg being shorter due to the tilted pelvis. My right leg is not only shorter but bigger in width than my other leg. It is the leg that always has the most pressure on it since you are always leaning that way thus making it work harder. My muscles in my right leg are bigger as well. Most people think I have been drinking due to the unbalance the tilted pelvis creates when you walk.
spungebub
- 3-Nov-13 @ 1:42 AM