Slipped Disc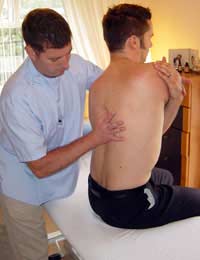 What are Discs?
Each of us has circular pads – or discs – of connective tissue that slide in between the bones of the spine known as vertebrae. These discs have the task of cushioning these vertebrae (which are very thin) when you run jump or even sit down heavily in a chair. The discs themselves are essentially a fibrous casing inside of which is a gel-like substance.
What is a Slipped Disc?
A slipped disc is perhaps misleading in its name because the disc itself does not essentially slip from its original position. Instead the disc ruptures and the jelly like innards push out through the vertebrae. This damaged disc – or these damaged discs as sometimes more than one disc can 'slip' given the nature of the injury – can put pressure on the entire length of spinal cord or can simply rub against a single nerve. Thus far the disc can cause pain in and around the area of the vertebrae or can cause pain in the part of the body that corresponds to any nerve endings it touches.
Most commonly the problem will occur in the lower back but any of the discs in the upper back and neck can also slip and cause a similar problem.
Symptoms of a Slipped Disc
Many people who have problems with a slipped disc may never even know but in a great many other cases the sufferer will be subject to pain, which can come and go in short bursts or be persistent in and around the area of the disc. As we have already mentioned the pain can also be distributed to those parts of the body that are in direct relation to any nerves in the back upon which the disc is touching.
One of the most common symptoms of a slipped disc is Sciatica: this condition affects the Sciatic nerve which a large nerve in the back made up of several smaller nerves which travel down the back, through the buttocks and down into the backs of the legs. Pressure on the Sciatic nerve can lead to a persistent aching, numbness or a tingling sensation in either leg.
Other symptoms include stiffening of the muscles, muscle paralysis and even uncontrollable muscle spasms. Some people suffering from this condition often relate their experiences to their GP as being similar to the cramp one might have in their leg if they sit on it.
Slipped discs normally come about as the result of bending incorrectly or being employed in a job that requires a lot of heavy lifting. If you are employed in such a job you should have received correct lifting and handling training; if not you should seek to have this training as soon as possible. Smoking is also a common factor as is being overweight.
If you feel that any of the symptoms mentioned relate to a problem you are suffering from it is important to consult your GP as soon as you can. He or she will carry out a few simple tests to try and confirm if indeed a slipped disc is the cause of your pain. They will test your reflexes, your ability to walk, the sensations you feel in your arms and legs and also the strength of the muscles in your limbs.
On occasions where these tests do not provide a definitive diagnosis your GP should arrange for either an MRI (Magnetic Resonance Imaging) or a CT (Computerised Tomography) scan to be carried out. These are painless examinations but can prove very useful in identifying problems in and around the back area.
Again it is important to stress that if any of these problems occur your GP should be contacted as soon as possible to help minimise any further damage to the spinal cord and also your back as a whole.
You might also like...