How is Psoriasis Linked to Back Pain?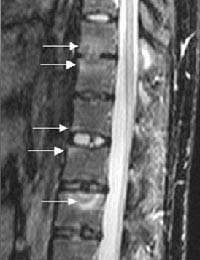 Most people know psoriasis as an itchy, scaly red skin condition that can occur anywhere in the body. Less well known is the association between psoriasis and a form of arthritis, which is an autoimmune disease similar to rheumatoid arthritis. Although psoriatic arthritis tends to affect the ankle and wrist, the joints of the fingers and then the hips, knees and elbows, it can also involve the spine, causing severe and chronic back pain.
Symptoms of Psoriatic Arthritis
The symptoms of arthritis associated with psoriasis are similar to those of rheumatoid arthritis. The early symptoms are feeling tired, achy and having swelling in the joints of the hands and feet, with a general feeling of tenderness in the tendons. The joints start to feel stiff, moving is more difficult and the joints become painful. One of the key signs of psoriatic arthritis is that the nails, particularly the fingernails, change their appearance, becoming very ridged.
What Comes First, Psoriasis or Arthritis?
It can happen both ways round, or the two conditions can develop at the same time. Often, if the arthritis is diagnosed first, there will be a small patch of psoriasis somewhere on the body that has gone unrecognised, such as on the scalp. This may predate the appearance of the arthritis but finding it can help specialists in arthritis treatment diagnose it from other forms of arthritis. This is important because the treatments can be very different.
How Common is Psoriatic Arthritis?
Psoriasis itself as a skin condition is relatively common affected about 3 people in every hundred in the UK. Most people have a small patch or two and psoriasis in the scalp is common. Some, however, have large lesions on the skin, sometimes covering most of the body. Generally, the worse the skin condition, the more likely it is to be associated with psoriatic arthritis. About 5 per cent of all people with psoriasis develop related arthritis, but around 40% of those with severe psoriasis succumb to joint and back problems.
Diagnosing Psoriatic Arthritis
It is obvious that some sort of arthritis is present, but distinguishing psoriatic arthritis from other forms of the disease can be difficult. It is fairly easy to separate it from osteoarthritis, because this produces different types of joint damage, but diagnosing it from rheumatoid arthritis or ankylosing spondylitis can be harder as these tend to produce very similar signs. The presence of psoriasis is one factor, but another is the severity and type of joint damage present. This can now be assessed in more detail using sophisticated scanning techniques such as CT scanning and MRI scanning.
Treatments for Psoriatic Arthritis
As well as doing exercises, looking after yourself well and having physiotherapy support when you need it, there are various specific treatments for the arthritis that is associated with psoriasis. Painkillers such as paracetamol and ibuprofen can help during painful flare ups. Non-steroidal anti-inflammatory drugs are used to try to keep the inflammation in the joints under control. Disease modifying anti-rheumatic drugs (DMARDS) can help slow the damage that occurs in the joints. Finally, the most recent new treatment is described as biological therapy as it involves using antibodies against tumour necrosis factor alpha (TNF-alpha). Inhibitors of this molecule reduce the autoimmune response that causes the symptoms of psoriatic arthritis and can also slow the progression of the disease by preventing joint damage. These drugs do not work in all cases and can have some serious side effects – so they tend to be kept for people who have failed to respond to all the other types of drug therapy available.
You might also like...
I suffer very badly with psoriasis on my arms hands and back of legs Trying to get my doctor on the other hand is a different matter and would help a lot if i wasnt seeing different doctors every time i went to the surgery. Your diagnosis of what i could have all ticks the boxes of what i suffer from. I will be showing my doctor this information i think i have finally found answer after 2 years of suffering Thank you
litle legs
- 7-Apr-15 @ 5:33 PM