Coccydinia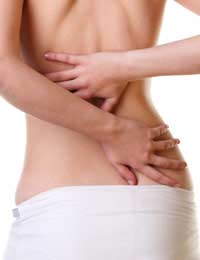 Coccydinia is a medical term used to describe pain experienced in the region of the coccyx, which is the tailbone and located at the very end of the spine below the sacrum.It is a fairly common complaint and occurs in more often in women than men.
What Causes Coccydinia?
Most incidences of coccydinia occur as a result of childbirth. The labour and delivery cause pressure to build up at the base of the spine and can cause the surrounding tissues to become tend and slightly bruised.It can be caused by trauma, for example falling badly on the area, because of a fracture or displacement or because of referred pain from a lower back disorder.There have been reports of coccydinia in those who regularly undertake sports such as cycling where repetitive strain may be to blame.
Signs And Symptoms.
Coccydinia may initially present as a dull ache secondary to lower back pain. It may occur during or more likely after delivery of a baby, or can be sudden an acute if a fall or fracture is to blame. The pain may be chronic and feel as though it is not being relieved as sitting can aggravate it.
Treatments For Coccydinia.
There are a variety of treatments that may be effective in lessening the pain caused by this condition, and the success of these treatments may vary depending on the cause of the pain and the level of pain experienced.For some simple pain relief may be enough especially during episodes of short lived pain such as after a small fall or knock.
Others may require the use of local anaesthetic and steroid injections to the site if pain is longer term. These injections may be given in hospital as a day patient under x-ray guidance or may even be offered by your GP depending on their speciality.Physiotherapy or osteopathy may help if the coccyx has become displaced, whereas manipulation or surgery may be required for those whop have suffered a fracture of the coccyx.
Before treatment is commenced it is advised that a definite diagnosis of coccydinia is made as it can mimic symptoms of other disorders such as shingles. If you suspect shingles or have a rash, please seek medical advice for a diagnosis confirmation.
For those who suffer from chronic pain, it may be worth investing in a well padded cushion for use during sitting activities, or by simply using a pillow. Your sitting position may well need amending to gain more comfort so chair selection is important also. Try and avoid hard surfaces or deep seated sofa as these will increase the pressure on the area.For those who suffered this complaint as a result of childbirth, discuss this with your midwife in the event of any further pregnancies and birthing position alternatives may be able to be practiced.
Coccydinia, though fairly common is not talked about very much. It is often long term and associated with lower back pain but may be because of displacement or fracture of the coccyx, whereby a proper diagnosis and treatment plan will be needed.
You might also like...