Dehydrated Discs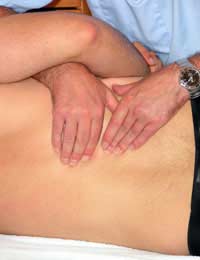 Dehydrated Discs – or Degenerative Disc Disease – is something that many people suffer from throughout the United Kingdom.
A spinal disc acts as a spacing mechanism between the vertebrae of the spine and the nerves and also allows for the spinal column to move and function such a way that we can move and twist our bodies without causing damage to these nerves and thin vertebrae.
Signs and Symptoms
Early indications that there is a problem with these discs are stiffness and a more restrictive movement of the spinal column. This can manifest itself as an inability to bend or to straight up properly after being in the seated position.
These discs are filled with a gel-like substance, some of which is lost during the course of an individual's average day and is replaced to some extent whilst they are asleep.
As these discs dehydrate – or lose fluid – they begin to bulge outward, pushing against the vertebrae, which in turn push the vertebrae close to others near it. This is when the problems with pain begin.
Many people of course suffer from this condition without even knowing it as they do not feel the pain but in other cases the pain can be quite severe and as the nerves touch it can cause muscle spasms, involuntary numbness of the lower limbs and problems with the organs in and around the pelvic region.
It is safe to say that as these nerves follow a path from their point of origin in the spine to the legs or the arms or the neck then the pain will follow this same path and the sufferer may well find that he or she is experiencing different levels of pain in a variety of places.
How the Disc Gets Damaged
The replenishment of this fluid – known as the Intradiscal Fluid Exchange – normally occurs at night but if the disc is damaged then it will struggle to reabsorb fluid. In other words it will lose more fluid than it will take back onboard. This is referred to as Negative Intradiscal Fluid Exchange.
It is also important to look at the ways in which these discs can become damaged.
Overworking, incorrect seating posture and injury in an accident are the most common ways in which a disc can become diseased and dehydrated as too can natural ailments such as Scoliosis. Scoliosis is a sideways curving of the spine sometimes caused by genetic abnormalities such as Spina Bifida. This curving of the spine has also been known to cause adverse effects on an individual's ability to breath and can – in extreme instances – lead to heart failure.
Again many people find that during the course of their busy lives they are lifting heavy weights and doing so in the wrong manner. If you work in such an environment it is imperative that you are fully conversant with Lifting and Handling procedures. If you are not you should consult your Health and Safety representative and request that – if you must lift heavy objects – you should be trained in the correct way to do so.
Likewise correct posture whilst sitting down for long periods is also a must and again your Health and Safety representative should be charged with the task of ensuring your chair is suitable for you given body mass, height etc.
Regular exercise is also important but it is wise to note that too much exercise can have an adverse affect so scheduling how much exercise you do and how often is another important factor.
You might also like...
hI THERE, I have Dyhydration L3/l4 and ll4/l5 and disprotrusion and sequestrated discu after MRI i am aged 52. I had hip pain all night for 3 months settled by wearing slippers and sandles at home ! No no pain at all settled after wearing slippers and sandles at hme Also got Facet Joint degration endplate changes as well. I am not taking any medication ! This this is caused by over weight as im 14 stone and also sitting in front of computer for 10 hrs a day !
I am in constant pain in my back I have 5 dehydrated discs in my back I got told for 3 years I had syactica and I wasent I am waiting to see a Neuro it had a big effect on my mental health and eating hope
Alex - Your Question:
I am a 27 yr old male who up until last year was working 84-108 hrs/week and always had back problems but all the doctors I had seen told me its nothing to worry bout. But recently I have found out I have 3 dehydrated spinal discs in lower back and I have to have my spine fused. Any advice for me
---
Our Response:
We can't really giveindividual medical advice but there are some positive suggestions below.
BackPainExpert
- 23-May-18 @ 10:21 AM
I am a 27 yr old male who up until last year was working 84-108 hrs/week and always had back problems but all the doctors i had seen told me its nothing to worry bout. But recently i have found out i have 3 dehydrated spinal discs in lower back and i have to have my spine fused. Any advice for me
Alex
- 16-May-18 @ 10:45 PM
What is the surgical procedure of disc dehydration
Kumar
- 9-Mar-18 @ 6:48 PM
Dear can anybody tell me what happens with me When i bend forward to push flush of washroom then i experience some force pull me forward and after that pain started in low back and after night it will only remain in sides of low back and hips Tell me plz what this happens to me
Harry
- 6-Dec-17 @ 2:04 AM
My ll yr old girl has bulging disk tear always in pain took her a and e. She now seeing back surgeon in a week not half a year how can this pain go away
Kat
- 25-Jun-17 @ 12:13 PM
Arch your back by pushing off floor with arms straight with hips and legs flat on floorrepeat 6 times 3 to 4 time a day. This arch will hurt but rather than tense up with the pain, focus on relaxing lower back and hips and imagine fluid being pushed into the problem disc.Drink 13 glasses of water on rising and one or two every two hours until bed - 13 glasses of water in the day If you can put some fresh drops of lemon in the water all the better . Using this method I cured a yearlong bout of chronic lower back and horrendous sciatica thathad me living on aspirin and in agony every time i laid down unable to get comfortable. Do the archedpush ups with hips on floor as much as possible.
eadndel drinkh20
- 8-Jun-17 @ 3:17 PM
I also have same problem plz suggest me to which doctor I should refer neurologist or orthopedic I m unable to stand plz suggest me
Ahmed
- 6-Jun-17 @ 4:45 AM
I'm so glad to have read this article about dehydration affecting the disc.It just happened to be something that I was curious about and decided to research.I am def responsible for signs of early degeneration in my spine; I don't take the time to stop what I am doing on my job and drink water! Now, I don't even get thirsty! But for those who are suffering from muscular pain contributing to spinal pain, I will share with you to stretch, stretch, stretch! I have read that most (lower) back pain also comes from TIGHT HAMSTRINGS!! YES! So I have a daily regimen of stretching my hamstrings just by flexing one foot with a straight leg, slightly bending the opposite knee and holding it; gradually bend from the hip toward the flexed foot.You will feel the terrible pull of your muscle in your hip, lower back and hamstring, but over time, as you keep stretching (several times a day every day) these muscles will begin to relax. BE GENTLE AND SLOW.Also stretch your hip flexors! Stretch those glutes! (Deep relax squat) All of these muscles get short from dehydration and long periods of sitting and pull on the very discs that are hurting! Research these stretches and DO THEM! It has helped me soooo much! And also do the gentle exercises to strengthen these muscles in the hip flexors and lower back. I also use essential oils for the inflammation and pain: marjoram is my favorite, melaleuca (tee tree oil), and a combo of wintergreen/peppermint. Cedarwood has been good for my tailbone area. Follow application with a warm compress to drive the oils deeper into the muscle towards the spine. doTERRA has a great line of oils that are pure and highly effective. Don't know what I'd do without these.
KFreedOM
- 26-Dec-16 @ 3:23 AM
I was suffering from sciatic pain for nearly 1 year and don't have any idea what is the reason for pain. After 1 year 3 weeks back I went to ayurvedic doctor. After seeing the pulse he told I have nerve compression and asked me to take MRI. In MRI it's l4 l5 disc bulge and l5 s1 disc protrusion. He asked me to admit for15 days. After 15 days of ayurvedic massage enema traction poultice and few other techniques my protruded disc got released and my sciatic pain is gone now. Now I can walk and sit more than a hour without pain. He told to take tablets for 2 months for the disc to completely heal with some strengthening exercises
Kal
- 26-Nov-16 @ 6:58 AM
Iam 24 and i have severe back pain i have a buldging disc in my L1 and L5 almost my entire lower lumbar is dehydrated and i have lost nearly 50% of my disc space in my lower lumbar. I was told there is nothing they can do and i just have to manage the pain. Some days i cant walk sometimes i am numb in my legs i get muscle spasms and jabbing shooting pains often i always feel weak as well as weak in the knees i suffer often its affected my goals and future my jobs and everyday normal life....onset by injury. Someone give me hope that i wont have to live the rest of my life in pain.
Skb24 going on 75
- 21-Nov-16 @ 8:27 PM
I am 25. My mri result shows I hv got dehydration of L4/5 disc.my doctor advice me to take Diclofenac and hv physiotherapy ,but I Still hv pain rnd my left buttock to leg part esp while I walk . anyone who experience such stff pls tl me wat to do.
billa
- 16-Oct-16 @ 9:28 PM
Hello all Im a newbie on here ...my long road started 4 years ago I had always been a fitness fanatic..vegetarian and look after myself At the age of 39 i started with a pain on my right side of my shoulder and thought i had just pulled a muscle this was june 2013 ..anyway my wrists starting hurting december 2013 then my hands and just thought i was doing too much Anyway i carried on taking paracetomols and rubbing myself with deep heat By august 2014 my hands was in agony and my spine started at lumbar region and cervical For a whole year i begged my doctor for a mri i was a proper fitness freak ... October 2015 i found out that i had stage 2 osteo in my hands and then the big shock came november 2015 after a mri My doc sent me for just a normal lumbar and sacral mri They ended up doing my whole spine i had C4 c5 c6 bulges-ddd T6 t7 t8 marginal osteophtes -ddd Annular tear at posterior l4 l5 with ddd T6 t7 t8 disc dessication Slight prominence spinal cord of the central canal at t6 t7 Tropism of the facet joints assocated with ddd Facet joints ddd l4 l5 s1 Im a walking pain ....im in pain all the time Migraines Numbness Tingling Swelling Pain Ribs Feet Hands Constipatin Pelvic problems Bladder I was so athaletic before all this started depression has set in im more isolated and feel like this ddd has took my life of me .. Then in feb 2016 i was diagnosed with underactive thyroid which just put the icing on the cake ..i just want to be the woman i was 4 years ago I would give my right arm to be the way i was
Salsybar
- 14-Oct-16 @ 12:33 AM
All dics on mri are dehydrated with bulging at c4 and c5 also L4 and L5 amd an elongated conus medullaris.I have radiculopathy from neck to biceps to elbows to hands. Sciatic pain running down both legs at times.I have been in several types of wrecks from cars to go karts to 4 wheelers.Both hips are in terrible shape my dr. Before he passed was looking into hip replacements . Also I had to have my rouex en y gastric bypassed reversed due to anorexia after over 20 yrs. Of having the bypass this has left me immuo comprimised I have been to so many drs I am so tired does any one have any advice I am only 48 yrs old and feel like my life is over. Oh I also have fibromyalgia so bad it has given me bilateral cataracts.Maybe I just need someone who has experienced 1 or more if these problems together who understands or maybe a Dr. Will read this and really want a challenge!
Lorie
- 7-Oct-16 @ 3:41 PM
MRI LUMBER SPINE.CLINICAL INFORMATION. FINDINGS. Loss of disc hydration signals at multiples levels.At L3/4; L4/5;L5/S1 level central and para central disc extrusion causing spinal canal and bilateralrecess stenosismore on the right side .
Shami
- 19-Jul-16 @ 6:11 PM
Hi Iv had my Mri results back today and it turns out Iv dehydrated discs my l4 l5 but Iv very bad pain on my rite side off my back I can't move in d mornings at all Iv scoliosis on my spine in 2 parts but d Mri is saying there's no change on my mri since 2013 the pain has got worse since that mri most days I can't even move my doctor has me on trylex twice a day they don't really work now and this stage and I'm out off work d last month with it can anyone advise on pain relief or anything for it ??Thanks
Rachael84
- 9-May-16 @ 10:30 PM
I'm 29 I have dehydration of the discs, DDD, Scoliosis of the neck and lumbar, bone spurs and narrowing of spinal column (all within c3-7) I have a neurosurgeon appt in Toronto coming up, Fingers crossed.
Read the bible and believe god will heal all those who are good
chilli
- 15-Apr-16 @ 6:00 PM
I've just had my Mri scan results I too have dehydrated discs still my doctor said its due to my age ism 34 what
chilli
- 15-Apr-16 @ 5:46 PM
Hi i am 46 i have scoliosis and dehydrated disc and bulging disc in my back i cant sit for a long time or walk a long time also i cant bend over I am in so much pain i have had physiotherapy and all it did was couse me more pain I cant work at all I am on thehighest dose of painkillers i cant get public transport or go in or car it sucksi am in pain 24/7 Marg
Margie
- 29-Mar-16 @ 9:22 AM
My wife has been suffering with severe back pain and numbness in her left leg for over 2 years now and has been attending the doctors and hospitals to try and get to the bottom of things.She had had 2 MRI scans and on the newest one its showing disc dehydration.When we visit different people we get different answers.Today we visited a pain management consultant in view of getting steroid injections, when he looked at MRI and said there was nothing wrong with her back and then read report and looked again seeing the dehydrated disc. He had basically told us that nothing more can be done but suggested my wife loose weight as he thinks the numbness is to to with a nerve in the groin area that passes through a tunnel of tendons being compromised. We both laughed at him, and questioned how weight can be lost when she can hardly walk. Yes she can go swimming but can can only do it for so long and this makes no impact on her weight other doctors have said the issue had nothing to do with weight. We feel messed about by doctors.
Only1alana
- 11-Feb-16 @ 5:15 PM
I'm 23 and I've just been told after an mri that I have dehydrated discs spondylosis and degeneration in my discs. I've always paid attention to my posture and the seat I use. Going to start physio soon to help with it, I hope it will help me.
Hyliangirl
- 25-Jan-16 @ 5:11 PM
Hi I'm 56 not diagnose with any element yet early days in bed on my side unable to move an inch been here for 4 days when I move agonising pain in down left leg in too knee also numb on 4 lots and pain killers which do notwork. Any help would be appreciated
unhappy girl
- 23-Jan-16 @ 11:14 PM
My MRI results: Bulging Discs & Disc Protusions @ C4, C5, C6 & C7. Spondyoarthrosis @ L2, L3, L4, L5 & S1 Degenerative Desiccation:  L4 & L5 Moderate Dextroconvex (thoracic) Scoliosis (which is considered debilitating); limited assessment due to the severity of the scoliosis. Moderate thoracic & lumbar "S" shaped scoliosis. Any help/advise appreciated!
back from hell
- 10-Jan-16 @ 11:04 AM
i just get my result of my MRI today i was ok ,until late in the after noon they called me to tell me about those problem. i wasn't ok but when i see all those people that have the same problem God give me a word. all i can do for all of yea keep yea on my prayer.All i can say God is good all the time. believe in him and put your faith in him and he will heal you , yes he will in Jesus name .amen
GODLIN
- 11-Dec-15 @ 5:23 AM
Hi sir I am 31 years old i have back pain and also in my right leg continuously. Test of M.R.I reopt show loss of normal lumber lordosis and disc dehydration is seen at l5-s1 kindly may explain me my disc is damage or not
Jam
- 26-Nov-15 @ 3:07 PM
I have been a builder for 35 years. I was also bodybuilding for many years. I fell between some shuttering with a 90lb York slab in my arms damaging my back. It took 7 months to get me in for surgery. I had a disc surgery. They found I have degenerative disease in 4 lower discs 5 bulging discs pressing on nerves and osteoarthritis from my skull down to the middle of myspine. I still havehorrendouspain 24 7 . I do still work6 days a week I try and train as much as possible. Being immobile is the worst thing you can be.I have lost 7 stone of muscle since I got hurt . I inject steroids now 200ml a week this rehydrate my discs and gives me better pain relief than the doctor ever could. But don't do as I do . I'vehad a lot of experience with roids and their not for everyone. Stay fit and healthy stay positive about yourcondition be mindful of your posture and listen to your body . Mind over matter. I'mean 51 this year and have the physique of a 25 year old
Mighty mouse
- 14-Sep-15 @ 12:10 PM
I've had this report back today : Dehydration on invertertebral discs frm L1 to L5 with focal disc herniations at L3/4 & L4/5 impinging upon the Left L3 nerve root in its exit foramen and the left L4 nerve root in its far lateral extraforaminal location respectively. As I don't understand the medical lingo and am no good with long words I have absolutely no idea what this means! Can anybody translate it into normal english for me please?
Taidi2
- 3-Sep-15 @ 1:31 PM
lm 33 years old. I got married and dont have any child.I have dehydration and bulging of L4 -L5 disk.,ls there any treatment for me? What is the best exercise for my problem.? I want to know that it is possible for me to be pregnant? l have strong pain upper of the left knee.
Parimah
- 23-Jul-15 @ 3:27 PM