What Is Fibromyalgia And How To Deal With It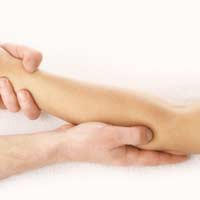 Fibromyalgia is a condition that affects the musculoskeletal system and. causes pain, discomfort and fatigue. It is a chronic condition that causes a tremendous amount of distress for the sufferer.It's an illness that can affect anyone but is most commonly seen in middle aged women.
What Exactly Is Fibromyalgia?
Fibromyalgia is an illness that affects the muscles, ligaments and tendons. It can cause aches and pain but also can aggravate other condition or carry side-effects that can have a seriously detrimental affect on health and can present with many unlikely symptoms.
What Causes Fibromyalgia?
In the past it was thought that this condition was caused by an inflammatory problem but research has proved that there is no inflammation or damage to nerves present in this disorder. In fact experts are still unsure as to why this condition develops at all, though other medical complaints such as rheumatoid arthritis seem to be more at risk of being diagnosed with fibromyalgia.
Signs And Symptoms Of Fibromyalgia.
Fibromyalgia carries many symptoms with the primary ones being pain and aching of the muscles, low energy and changes and disturbances to sleeping pattern.
Muscles can feel exhausted and can cause aching of the most of the body.
Many sufferers of fibromyalgia have reported increased pain at certain points on their body such as the elbows, shoulders and knees. This pain can sometimes manifest itself as 'tenderness' and is a definitive part of being able to make an official diagnosis of fibromyalgia.Tiredness and fatigue can affect the person's ability to perform daily tasks and routines and may be partly because of the sleep pattern disturbances that occur. This can also lead to feeling low, poor appetite and feeling anxious.
Other symptoms can include bowel and bladder problems and tingling and numbness in the extremities.
Fibromyalgia Treatment Options
Before any fibromyalgia treatment can be sought, it is essential that a proper diagnosis of the illness is made to ensure no other conditions are present that need alternative treatment.
The first fibromyalgia treatment is to ensure pain levels are addressed. Over the counter drugs should be adequate to keep pain at a tolerable level. It should be explained to the sufferer that fibromyalgia is a long term chronic condition and pain killers may become less effective after time so the stronger varieties shouldn't be relied upon in the initial stages.
If certain areas such as the elbows or shoulders present with a higher level of pain than other areas, these can be treated with steroids or local anaesthetic which will need prescribing and administering by a professional.
Sleeping disturbances may be treated with medications to overcome these troubles and bowel and bladder issues may also need addressing.
Many of the alternative therapies may be useful such as massage or relaxation techniques to try and manage aches and exhaustion conservatively.
If none of these methods are successful and pain levels increase, stronger medications and anti-depressants may help the individual cope more with their illness.
Fibromyalgia is a chronic condition that can have serious and negative effects on a sufferer's daily living. The person must find ways to try and cope with the disorder in order to maintain a quality of life.
You might also like...
I've been having pains in my ribs, especially the right side. My doctor said it's shingles and am receiving treatment for that. But the pain is still there. Could there be another problem and what?
Nnem 1
- 9-Dec-11 @ 4:18 PM