Office Chairs And Back Pain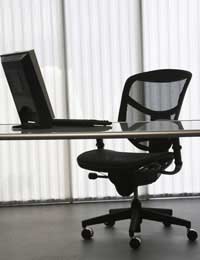 Many of us do not pay particular attention to the chairs we sit on whilst in the workplace but it is important that we do so in order to minimise the chances of suffering from back pain.
During the course of our working lives we will spend many hundreds - if not thousands - of hours in the seated position whilst using computers or filling out paperwork. It is in this seated position that, unbeknownst to us, we can do our backs a lot of unnecessary damage.
Type Of Office Chair
It is important to consider carefully the sort of office chair you sit on in the workplace - does it have a high or a low back? Does it have arms that restrict your movement? Is it adjustable? All of these questions - although perhaps not sounding particularly important - are important as they can mean the difference between being back pain ridden or back pain free.
This applies especially to people who spend a lot of their time sitting forward in their chairs in a hunched over position. It may seem comfortable at the time and may get us closer to our desks but the inevitable result is that the spine will become stiff and the muscles in and around the spine tighten up.
It is important to match the features of the office chair against the physical needs of the individual using it.
Hard back chairs can present their own unique set of problems the most common one being numbness in the buttocks and the legs. With this in mind perhaps a cushion brought from home may help.
How to Tell If Your Office Chair Is Right For You
You may find that if the chair you are sitting in is incorrect then you will begin to have problems getting up from the seated position. This happens if a seat is too low or is too soft, the seat itself is not deep enough (this is measured by how far you sink into the seat), the back is at an inappropriate angle or the arm rests are too short - and in some cases - the office chair simply does not have any.
Your workplace will have a Healthy and Safety representative who will be charged with the task of making sure that all seating is correct for use. If you are in any doubt as to the stability and indeed the position of your office chair you should speak to them and make arrangements for the chair to be altered or changed.
It is worth remembering also that a chair which has its back positioned at an acute angle can lead to intestinal problems as well as back pain; this is because whilst the individual is trying to compensate for the angle by sitting too far forward they are literally crushing their intestinal area under their own body weight.
Again if this is something that you find yourself suffering from seek advice from your workplace Health and Safety representative and ultimately if the problem continues, seek the advice of your doctor. Your doctor will be able to offer advice on what steps to take to alleviate back pain problems when seated for long periods of time.
If you do find that you are spending excessive amounts of time in the seated position it is important to take short breaks: in doing so walk around for a few moments, perhaps take the time to do some filing or another task that allows you to stand for a while.
You will find that by taking short breaks during the course of your working day - even if it is just to visit the restroom - this will take some of the pressure off your back and spine and help reduce the risk of back pain.
You might also like...