Injuries and Trauma and Back Pain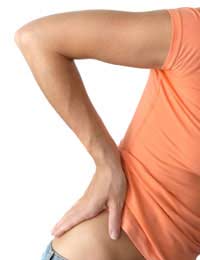 An injury or traumatic event can be the outcome of many episodes. Common causes are a road traffic accident, slip, trip, fall, sports injury or from a sudden force of impact from a blunt object.
Trauma and injury to the back, account for most instances of acute back pain. A trauma or injury can cause damage to the spinal, soft-tissue or the neurological structures, and cause the spinal column to become unstable.
Signs and Symptoms
As with any injury the main symptoms are high levels of pain, swelling, bruising, deformity or neurological interferences such as pins and needles or even total numbness in the arms or legs.
Diagnosis of a Spinal Injury
A spinal injury may be difficult to diagnose without imaging to either confirm or rule out a trauma. If undiagnosed and left untreated, a spinal injury can have disastrous consequences. All healthcare professionals will treat the patient as if a spinal injury has occurred until either an X-ray or scan has been performed.
If a spinal injury is suspected, the person should be immobilised immediately, preferably on a neutral and firm surface, until professional help has arrived.
Types of Back Injury
Instability of the spinal column can occur due to a vertebral fracture, often with a coinciding dislocation. The most common type of spinal fracture is a compression fracture that occurs as a result of a fall.
Nerve damage can be the outcome of a fall, road traffic accident or from a physical assault and shouldn't be underestimated as there may be other injuries, such as spinal fractures, that have exacerbated the nerve damage.
Ligaments can become strained/sprained or torn when the back is injured, causing the muscles to spasm in an effort to protect the delicate structures of the spinal canal. This can happen in any region of the spine and can be very serious.
Torn ligaments can take up to 12 months to heal fully, and if left can result in them becoming permanently overstretched leading to long-term spinal weakness.
A herniated disc may result, after a fall, collision in sport of after lifting something that is too heavy.
Prevention of a Back Injury
Along with the usual measures such as ensuring correct lifting techniques are adhered to, there are other considerations that can help avoid a back injury:
Never get in a car with someone under the influence of drugs or alcohol.
Wear appropriate footwear when the weather is cold, icy, snowing or even just a hard frost.
Be careful to not walk on wet floors if possible; trips and slips are very common causes for back injuries.
Christmas is a time for many traumas to occur as children are trying out new bikes, scooters, roller-skates etc, make sure they have adequate protection on as well as a thick padded jacket.
If playing sports, make sure tackling techniques are all approved methods, and make sure a sufficient warm-up is performed prior to starting to play.
Unfortunately, injuries and traumatic events are part of every day life. By trying to avoid the common causes of injury, we can significantly reduce the risk of being hurt.
You might also like...
I had a RTA around the same time. Is this "Independant specialist" working for the insurance company or been appointed by legal cover insurers or their appointed solicitors?
SPLINT
- 12-Jul-11 @ 3:25 PM
I had an RTA in September 2008. Within days, I started to experience pain in my neck, lower back, right groin, buttocks and right leg with minimum pain in the left leg. I had an MRI done 8 months after the RTA and showed signs of a disc bulge and dark spot in 3 discs. 13 months after the RTA, I underwent pain management which eased the pain for about a month and then it got worse again. I have had another pain management treatment about 5 months ago but my symptoms remain the same. My GP and the medics who have treated me all say the accident is the cause of my degenerative disc disease because I have never had any pre existing injuries or symptoms andmy medical history proove this but, an Independant specialist claims it is not accident related but due to ageing in his first report. He stated I would have been this way (lying in bed for over 20 hours a day) within 5 years. He never met me when he did this report or saw my MRI but gave his opinion on the medical notes presented after the accident. He then examined me for about 30 minutes and said I should have recovered within 18 months of the accident (without explaining the treatment and rehabilitation required to achieve these goals) so sticks to his story that this is age related. Please tell me if this is correct as I am getting too many mixed opinions. Yours sincerely Clayton Moore
Clay
- 22-Jun-11 @ 4:21 PM