How Does Your Bed Affect Your Back?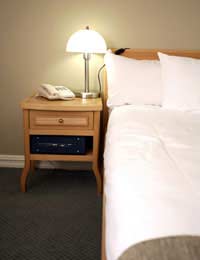 Anyone who has ever suffered from a bad back will know how much pain and discomfort can be exacerbated by a poor mattress, but it is not just those with existing back complaints who can benefit from a good mattress; back pain may actually be preventable by investing in a good quality mattress and bed.
Too Soft Or Too Hard?
Not only can a poorly suited mattress put your spine out of alignment, but it can exacerbate pain levels through the day due to a lack of good quality sleep.Many manufacturers offer mattress in a variety of textures, firmness and materials; these can range from springs, foams, air, water or other new types of memory and contouring materials. There is not right or wrong selection but you should make sure you choose something that it right for you.
Firmness and comfort are key issues, but it should also be noted that weight is an issue too. Some houses, floors, flats etc will not hold a king-sized water bed with two people in it if the weight becomes too much. Always make sure your bedroom and house can hold the weight of a water bed before purchase.Some manufacturers claim their mattresses are 'orthopaedic' which can lead the customer into believing it has been endorsed or designed by doctors or back pain specialists but this is most often not true. It is purely a word that has been used as a clever marketing ploy.
When Buying Your Mattress
When you go to select a new mattress and/or bed, always try it out. Do not feel embarrassed about lying on the bed and make sure you spend longer than just a few minutes lying on your back.Make sure the bed it long enough and wide enough to sleep both you and your partner comfortably.
Try to spend some time on your back, front and sides so as to get a good feel of how comfortable it will be when you move around during the night whilst asleep.The mattress should not be too soft or too hard and should contour around your natural shape. When you first lie down on a bed, particularly in a showroom, you will probably find that you tense your muscles and do not fully relax. The tension in the muscles will keep your spine somewhat aligned but will not be true picture of how you sleep. Allow yourself to become relaxed, close your eyes and stay there for a while. Do not allow the sales person to hurry you and it might be worthwhile going mattress shopping whilst you have no children to distract you. A mattress is an expensive item to rush the selection of.A bed that is too soft or hard can cause your spine to go out of its natural alignment causing aches and pains the next morning.
Sleeping Position
The best way to sleep to protect your back is to lie on your side with a pillow between your knees. If you are pregnant, you may find additional support of a pillow under your bump is beneficial.You do not need a stack of pillows, one good quality pliable pillow should be sufficient to support your head, neck and shoulders.
Many people tend to keep their mattress for too long and do not renew it often enough. If your mattress is causing you to wake during the night, leaves you aching and stiff in the morning, causes you and your partner too roll together in the middle or sags at the edges, it is probably time to find a new and more suitable mattress.
Your back is a strong but delicate instrument that can become painful from many activities including sleeping. It is important to protect your spine and muscular system from any potential or further damage by spending some time making sure you have selected the most appropriate mattress for your spine.
You might also like...
Buy from ikea they give you 90 days trial can't be fairer than that.
Pryllwyd
- 15-Sep-12 @ 7:09 PM
The point about holding on to a mattress for too long is well made. We tend to think of them as forever, but they're certainly not. You mention replacing when a mattress sags, but apart from that, how regularly should we replace a mattress. I know it's impossible to give an exact figure, but I'd like to have some kind of idea. Every five years, or should a good (not cheap) mattress last ten years? We could use one, but the ones I want are so expensive...
Tina
- 3-Jul-12 @ 5:31 AM
I have bought soooo many beds and mattresses that I am scared to buy any more.I currently have the recommended wonderful FOAM TEMPUR mattress with the recommended slatted base to let the form 'breathe'. I wake up in the middle of the night in pain every night - and my back is killing me.I now have a problem with L2/3 and not bad enough to operate. My question to you is how do I know if I buy a new bed that it will be of any use at all?You have to sleep on a bed to know if it is ok.If not ok and my old bed is gone what then??
None
- 15-Jun-11 @ 11:28 AM
Thanks... very helpful. I guess it's time for me to do that shopping!
Danny
- 8-Jun-11 @ 1:22 AM