Sudden Movements and Back Pain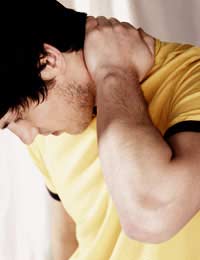 Back pain is most often caused by an injury that included a sudden movement occurring.Such injuries can arise from incorrect lifting technique, twisting, bending, traumatic accidents and sports injuries.Sudden movements usually result in damage to the middle and lower back, with upper back and neck pain caused by a whiplash type injury. The common outcomes are muscle strain/sprain, ligament or nerve damage, facet joint syndrome, sacroiliac joint syndrome and occasionally disc herniation. Symptoms normally present around 24 hours after the injury occurred.
Muscle Strain/Sprain
Any sudden movement can cause the sufferer to feel as though they have 'put their back out'. In fact, it is almost certainly to be a torn or over stretched muscle. Symptoms include localised pain, difficulty in moving, and overall stiffness. Treatments include anti-inflammatory medications, gentle exercise and massage.
Ligament Damage/Nerve Damage
Ligaments are small and tough fibrous components that connect bone to bone. They are not designed to have a huge amount of stretching capabilities unless the body has been specifically conditioned (athletes, dancers etc) and can be extremely painful when over-stretched by a sudden movement. This is because they contain a large amount of small and sensitive nerves. Symptoms may be relieved by finding a comfortable position. Treatment includes anti-inflammatory medication.
Facet Joint Syndrome
Facet joint syndrome is most often caused by a sudden movement and is defined as an irritation of the joints of the spinal vertebra. Symptoms include localised pain, a reduction in mobility, and there is a possibility of the sufferer developing a change in their normal body alignment. Anti-inflammatory drugs are the treatment of choice.
Sacroiliac Joint Syndrome
The sacroiliac joint is found in the pelvis and connects the sacrum to the large bone of the pelvis called the ilium. It essentially connects the upper and lower body. It has a unique anatomy that no other joint in the human body has. This joint is not used to aid in mobility or flexibility but is highly responsible for providing strength. Symptoms can include high levels of pain, difficulty in movement, pain in the hips and radiating to the lower limbs. Due to the high levels of pain, prescription drugs may be required.
Herniated Discs
To encounter a herniated disc from a sudden movement, the impact of injury has to be quite significant. The bulge from the disc can cause nerve compression of the spinal cord and medical advice should be sought in order to establish an effective course of pain relief and treatment.
Whiplash
Whiplash occurs when the normally smooth-gliding and well lubricated joints of the upper spine and neck are forced together damaging nerves, muscles ligaments and discs.
Symptoms can be dizziness, headaches, nerve pain and difficulty in maintaining a normal range of movement. Symptoms can often take 2-3 days to present. Physiotherapy combined with anti-inflammatory medication is the usual course of treatment.
Prevention of Injury Caused by Sudden Movement
Most back pain caused by sudden movements could be avoided by adhering to a few basic rules. Avoid lifting inappropriate objects, including those of an awkward shape, use lifting aids where possible. If lifting cannot be avoided, keep the load close to your body, maintaining a firm base with feet slightly apart and try to direct weight through the legs not the back. Bend knees instead of leaning forward and turn the hips and shoulders at the same time to avoid twisting.Maintain a steady weight that is healthy for your frame.
Regular exercise, especially that which encourages stretching and building muscle tone will help the back cope with a small degree of sudden impacts, and will aid a speedier recovery in the event of an injury.When playing sport, ensure thorough warm-up and warm-down exercises are performed.
When carrying out any day-to-day activity, it is worth sparing a thought on how the tasks can be carried out safely in order to avoid injury caused by sudden movement.
You might also like...
I have found this site to be of great help with information and advice, it allows a person to seek help from the proper direction from those who have the correct expertise
big T
- 18-May-11 @ 2:10 PM