Spinal Dislocation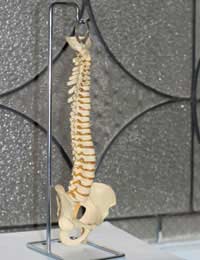 A dislocation is when any of the joints in the human body are forced out of the regular position. A total dislocation means there is no contact between any of the articulated surfaces of the joint whereas a partial dislocation, or subluxation, suggests a degree of contact.
In the event of a suspected dislocation, it is essential to seek medical advice immediately for a number of reasons. It is very important to not attempt to move or relocate the joint as this must be done by a professional. There are a great many nerves and blood vessels surrounding joints, any of which can be irritated or even compressed by the dislocation. Non-professionals can actually cause more harm to the sufferer, sometimes even long-term problems can occur, if they try to move or reduced the dislocation. Until medical help has arrived the best action to take is to support the dislocation, apply ice (without force) to the site to reduce swelling, bruising and to help reduce pain, and to keep the rest of the patient warm.
A dislocated joint needs immediate medical treatment as the ligaments and tendons that have been stretched by the joint being forced apart can lose some of their elasticity resulting in a permanently weakened joint. Most dislocations that received speedy treatment have fully recovered within 6 weeks, though there is a slightly greater chance of recurrence. Pain relief is usually the first course of treatment given to any patient.
Causes of Spinal Dislocation
Most spinal dislocations are the result of a road traffic accident, very hard fall or high-impact sports injuries. Activities such as rugby and hockey carry a high risk, as do highly technical sports such as gymnastics or skiing.
There is a slightly higher prevalence of spinal dislocation amongst adolescents due to lifestyle choices such as sports, careless driving and the influence of drink and drugs.
Due to the nature of how spinal dislocations are caused, they usually are accompanied by a fracture.
Symptoms of a Dislocation
This injury causes very high levels of pain, immobility of the affected joint and sometimes a very distinct deformity. Nausea and vomiting can also present due to the shock and high pain levels.
A noticeable deformity and swelling and bruising around the site are very common; in spinal fractures these signs can be difficult to spot.
Treatment of a Spinal Dislocation
The most common course of treatment is to decompress, reduce and stabilise the spinal structures. This can be achieved by traction, spinal fusion, removal of the compressing tissue and realignment of the spine.
Interventions include hands-on manipulation and spinal fusion. Manipulation is usually performed under anaesthetic as the pain experienced can be excruciating.
Dislocations of the thoracic, lumbar and sacral spine are very uncommon. Thoracic dislocations account for around 80% of the paraplegia sufferers.
Prevention
As many spinal dislocations are the result of road traffic accidents, precautions include careful driving, especially in adverse weather conditions, the use of a seat-belt and to make sure to never get in a car with any driver who is suspected of being under the influence of drugs or alcohol.
Learning and demonstrating correct techniques at tackling or performing particularly difficult moves in sports is the best way to avoid injury.
You might also like...
My friend have pain in lumbar region. It cause breathing effects during sleeping.in MRI scan it shows that there is a dislocation in lumbar region
Jeeva
- 17-Apr-18 @ 8:35 PM
I have chronic lower back pain due to a dislocated vertebrae witch is fused to a second vertebrae in witch is rubbing on a therd due to an old injury pain gets worse when i do anything strenuous i can't bend forward without having a sharp pain in the aeria and a miner cough also sparks a pain like a knife stabbing between the vertebraes could it be a nerve and what kind of medication could i take to ease it so i can keep working efficiently
Daryl
- 1-Jan-18 @ 12:33 AM
My father is 51his spin has dislocated Lower region due to this he suffer pain on his one whole leg suggests me what should we do
madan
- 13-Sep-16 @ 8:33 AM
I can literally see one of the nobs(disks or whatever it's called) on my back that is moved to right of my spine and out of line with the rest but i don't feel any pain or discomfort, is this good or bad? I'm 19 years old and i play rugby
zane
- 25-Aug-16 @ 2:18 PM
Just his hip? Or other joints? Ehler danlos?
jojo35
- 5-Jan-15 @ 11:04 PM
My son is 19, his back consistently goes out, almost daily. Why is this happening and what should I do?
kat
- 19-Dec-14 @ 5:31 PM