A Spinal Tap Caused My Back Pain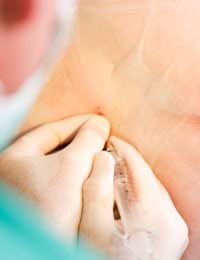 After being warned that having a spinal tap could cause incredibly bad spinal headaches afterwards, Karl was keen to follow the advice to rest, lie down and take in lots of fluids. "After developing a high fever and rash, I needed the spinal tap to investigate whether I had bacterial meningitis, so this was a really worrying and stressful time. I was already feeling pretty rough, so I didn't want to feel worse because of intense headaches," he recalls.
Fortunately, the results of the spinal tap showed there was no meningitis and Karl's fever subsided over the next couple of days. "I also never developed a spinal headache, so I was feeling a lot more positive and wasn't really worried about my back and hips feeling painful. I had been through a lot and knew it would take a bit of time to recover and feel more like my old self," he says.
What Does a Spinal Tap Involve?
A spinal tap is often also referred to as a lumbar puncture; it involves using a large needle to puncture the skin and protective membranes around the spine that are filled with cerebrospinal fluid so a little of that fluid can be drawn off to be analysed. Spinal taps are often done to investigate whether someone has an active infection in the brain and spinal fluid, or to introduce an anaesthetic. Epidural anaesthetics are often used in knee surgery, for example, as well as being offered as pain relief for women enduring long and intractable
labours
.
During the procedure you need to lie on your front – for about one and a half hours. After the fluid has been taken, you are then advised to lie still on your back for about 16 hours, while taking in plenty of water to remain fully hydrated.
Back Pain as a Side Effect of a Spinal Tap
The combination of immobility during the procedure and the effect of the spinal tap on some of the nerve leaving the spinal cord at the point where the needle is inserted can lead to inflammation, which causes lower back pain, hip pain and lower abdominal pain for days or even weeks afterwards.
After a few more days of resting at home, Karl's back pain had not really subsided. "I was getting up and about and being more mobile but even though I am only 35, I was hobbling round likely someone about 40 years older. I was starting to feel better but I had quite intense pain in my lower back that would move into my right hip and then round to the front of my lower abdomen during the day. Nothing seemed to help – whether I stayed resting, or tried to do some exercises and keep moving, the pain was still bad," he explains.
Concerned that something had gone wrong in the spinal tap procedure, Karl went back to his GP. "She explained to me that, after spinal headaches, getting lower back pain after a spinal tap was the second most likely after-effect. I was relieved that this was fairly normal and reassured when she said that the pain would ease – but it could take several weeks."
Steps to Recovery
Used to being active, Karl researched the problem of back pain after spinal tap on the internet and found forums full of people who had experienced the same thing. "It was worrying that quite young people reported being reduced to walking with a stick and to suffering really bad effects on their normal life. I have always been active and hate being ill so I decided to tackle the problem head on – there was no way I was going to hobble around using a walking stick!" stresses Karl.
Over the next few weeks, Karl took the advice of his doctor and used ibuprofen in combination with paracetamol to keep the pain to a manageable level and embarked on his own rehabilitation programme of daily swimming, walking and booked himself in at the local health club for a weekly back massage. "The exercise really made me feel better generally and 2 months later, my back was really feeling as it used to; for anyone in the same position I would recommend doing the same. Things like this have to be beaten, before they beat you!" he says.
You might also like...
Hi . I also had a spinal Tap to check the stages of a bleeiding in my brain. This has caused me serious back pain almost feels like my spine has given in and the pain in awful I live every day waking up in the morning with pain when I lay flat I can't sleep because of it , The procedure was at 3am in the morning at the royal London hospital , its been years now after and I'm in so much pain I feel like the hospital having done this to me , Walking is horrible and laying flat in bed is the same I would advise anyone to not have a lumbar puncture unless necessary , it ruined my life I complain all the time and it annoys my partner although the pain is genuine .
UKez
- 3-Jul-18 @ 9:44 AM
I had a spinal tap 3 years ago and still suffering from back, hip and left leg pain along with occasional weakness. Nothing helps. I can't even stand more than 10 minutes! I need help!
Agsmith78
- 5-Apr-18 @ 5:51 PM
I had suicidal back pain and leg pain for 7-8 months after a spinal tap until the pain slowly subsided. Today 1 year later, i am 80-90 % Better! Noone will ever touch my spine again!!! Anything done near the dural-sac can cause an incurable disease called arachnoiditis.
Jsisjd
- 1-Sep-17 @ 9:24 PM