Online Pain Management
By: Suzanne Elvidge BSc (hons), MSc - Updated: 16 Jun 2010
|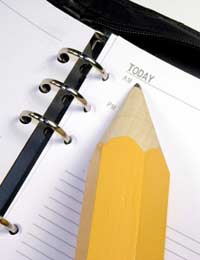 Time with a doctor or nurse is always limited, and it's easy to forget the details of changes in back pain when at the appointment. Any extra information can make all the difference in diagnosis and treatment – this is where a pain diary that tracks days and dates of pain, any activities and exercise, and any drug or other treatments can be really useful.
How Does a Pain Diary Help?
Keeping a daily, weekly or monthly pain diary helps patients, doctors, nurses and carers manage pain better because the patient or carer can keep track of any patterns in the pain, linking it with specific activities, or seeing if certain exercises or drugs particularly help.
People with chronic back pain can feel like it just goes on forever and doesn't change. A pain diary may also help morale by reminding people that they do have some days that are pain-free, and helps them take control.
Keeping a pain diary online means that it is accessible from anywhere with an internet connection, and other people, such as doctors, nurses, pharmacists or carers, can be given secure access.
What to Track
Different things will affect pain for different people, so it is worthwhile monitoring a range of things before selecting on the once that will be the main focus. Make entries as often as needed – from hourly or daily to weekly or monthly.
Level (intensity) of pain
Length and frequency of pain
Location of pain
Type of pain
Any changes to pain
Effect of pain on work and other activities
Exercise
Other activities
Medication – over-the-counter, prescribed and alternative
Any other treatments
Weather
Mood
Menstrual cycle (if relevant)
How to Track Pain Online
There are a number of specialist online pain dairies with functions such as:
a body map for pain location and intensity, tracks pain characteristics, symptoms, impact of pain on lifestyle, medications and treatment, and includes reminders and space for notes.
tracking pain location, type and intensity, medical conditions, sleep patterns, prescription, over-the-counter and alternative therapies and other treatments.
sections for prescriptions and treatment, and pain locations and types, with options for producing dairy reports and graphs.
health profile to track conditions and treatments, patient communities and support groups.
Any online diary, such as or online calendar, can be used to make notes on pain patterns and what helps, and these can be kept private or shared with family members or a doctor or nurse. An alternative is using a spreadsheet program like Excel, and sharing it using a website.
Why Are Online Diaries Better?
Online diaries can be better than paper diaries, because they can't be lost, they can be accessed from anywhere with an internet connection, and are easier to share with other people. It's also easier to create lists, graphs and charts from online pain diaries or from shared spreadsheets.
You might also like...