Back Pain and Stress
By: Suzanne Elvidge BSc (hons), MSc - Updated: 16 Oct 2012
|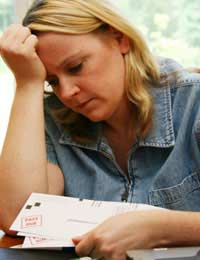 There are clear links between stress and back pain, but it's not always clear which came first. Does stress cause back pain or does back pain cause stress? By dealing with the stress, this can help people reduce or get rid of their back pain.
Stress
When people are under stress, their bodies produce stress hormones, including cortisol. This is part of the 'fight or flight response', a biological response that prepares animals (and humans) for a stressful situation by getting their muscles ready to fight off an aggressor or run away. This should then be followed by a relaxation response, as the body returns to normal. If stress is constant, as the stress hormones take about 72 hours to return to normal, the body doesn't have time to relax and the stress response becomes chronic.
Stress and Back Pain
Because it's about being ready for action, the back, neck and jaw muscles tend to become tense under the fight or flight response. While this was useful when people needed to be able to fight or flee, in modern settings such as offices and traffic jams, neither becoming aggressive nor running away is appropriate. If the muscles remain tense for long periods, not enough oxygen gets through because the blood vessels are compressed – this can cause pain in these muscles, and could cause muscle wasting and damage long-term. Muscles that are tense are more likely to be injured, and can also go into spasm, which is very painful.
The experience of back pain can cause stress – worries about health, ability to work, ability to function at home, even just the stress of being in constant pain. The muscle tension of this stress can then make the back pain worse.
What to Do?
If possible, start by avoiding the stressful situations, but this isn't always practical. If the stress triggers are regular, try to prepare for them and make a conscious decision that you won't let them get you down. Think about cutting out or cutting down on caffeine and nicotine, as these can both make stress worse.
Whether stress causes back pain or back pain causes stress, learning to relax can help the pain and improve sleep.
Regular cardiovascular exercise helps with stress by increasing endorphin levels – these improve mood and act as natural painkillers. Exercises such as yoga help with relaxation. By stretching and strengthening the muscles, exercise also can help to relieve back pain and prevent future back injuries.
Deep and slow breaths can help, as the stress response speeds up breathing. Making a conscious effort to relax the muscles causing the pain can help relieve the backache, and educe stress levels. To relax the muscles, sit or lie down, and, starting at the face or the feet, tighten up small groups of muscles and then let them relax fully (for example, start with toes, then the whole foot, the calf muscles, the thigh muscles, etc). This can help with sleep, but can be done at any time of the day.
The smell of lavender is very relaxing and can help sleep. Try lavender-scented bath oil or bath foam in a bedtime bath, using a few drops of lavender oil instead of fabric conditioner when washing night clothes and bed linen, putting lavender bags in linen drawers, or putting a few drops of lavender oil on the pillow, or a lavender bag inside the pillow case.
You might also like...