Taking Part in Clinical Trials
By: Suzanne Elvidge BSc (hons), MSc - Updated: 17 Apr 2012
|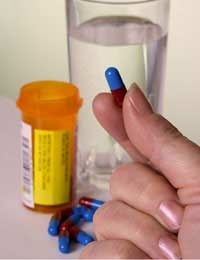 Before a drug company can market a new drug, it has to carry out trials to see how well it works. These start in the laboratory, and these are known as preclinical trials. Once the company can see that the drug is safe, it will move to the next stage – testing the drug in healthy volunteers, often students. These are phase I trials.
To see how well the drug works in patients, the company then carries out phase II trials in a small group of patients, and then phase III trials, in large groups of patients. Depending on the type of disease, this could involve hundreds, or tens of thousands, of patients. Clinical trials carried on after a drug reaches the market are called phase IV trials.
People who are in clinical trials will often have to record their symptoms, and attend regular clinics for treatment or assessment. Clinical trials can last for a few hours or days, or for many months or years.
Why Volunteer?
Joining a clinical trial gives people the opportunity to try out a new treatment. It also helps doctors and researchers to find out more about a particular disease, and learn how to treat it better in the future. In some trials, people receive payments. In others, they will be reimbursed for their travel costs.
People on clinical trials will be assessed regularly and may receive more support and care than people who are just receiving treatment from their own doctor. In some studies, at the end of the trial, if the test drug or treatment has been successful, it may be made available to the patients afterwards. If the test drug or treatment is not going to be available, the doctors and researchers will be able to advise on the best treatment possible, which may be better than the treatment that the patients got before the trial.
Before agreeing to take part in a clinical trial, always raise any concerns and ask plenty of questions.
What are the Disadvantages?
Some trials are 'placebo-controlled' – this means that they are comparing the new treatment against a dummy or placebo treatment. People who join the trial won't know whether they have the active or the dummy treatment – and sometimes, the doctors don't know either. These kinds of trials are very important for the researchers, but may mean that some people in the trial won't see any improvement, or that their back pain may get worse.
Some trials will compare a new drug with an existing 'standard of care' – again, the patients and doctors won't know what they are getting, but they may receive the same treatment that they were getting before the clinical trial.
Some new drugs may not be as effective as the company hopes, or they may cause side-effects – new symptoms caused by the test drug.
Clinical trials often involve more visits to the doctor or the hospital than usual – however, this could be an advantage.
How to Volunteer
Doctors, especially specialists, may know about relevant clinical trials that are looking for volunteers. Some companies that run clinical trials run advertisements in newspapers and magazines. One of the NHS websites, the UK Clinical Trials Gateway (UKCTG), lists many clinical trials that are underway in the UK. Charities may also have information on clinical trials that are under way.
You might also like...