Minimally Invasive Surgery on the Back
By: Suzanne Elvidge BSc (hons), MSc - Updated: 1 Feb 2011
|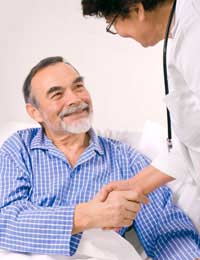 Doctors try to treat back pain without using surgery, through drugs, exercise and physiotherapy, but sometimes back pain becomes so severe, or spinal damage becomes so bad that the only option left is surgery.
What are the Advantages of Minimally Invasive Surgery?
In traditional back surgery, surgeons may have to cut though muscles and blood vessels, or operate around nerves. Because of this, recovery can take a long time and require extended time off work or studies. Minimally invasive spinal surgery (MISS) has potential to reduce both pain and recovery time, shorten operation times (and so reduce the amount of anaesthetic needed), cut down on complications, and reduce blood loss, as well as resulting in smaller scars. After this type of surgery, patients could be out of hospital after as little as 24 hours and could be back at work between a few days and a few weeks, depending on the type of surgery. Minimally invasive surgery isn't suitable for all patients, and the surgeon will be able to advise on the best type of operation.
How Does Minimally Invasive Surgery Work?
Minimally invasive surgery is usually guided using X-rays. The surgeon tunnels between the muscles and muscle fibres (known as muscle dilation), rather than cutting them away. A hollow tube in inserted, followed by a very small endoscopic camera, and the surgeon then carries out the surgery using specialist small tools. Once the tube is removed, the muscles will move back to their normal position.
Minimally Invasive Spinal Fusion
In spinal fusion surgery, two bones in the spine (vertebrae) are fused together. This is used in spinal stenosis (narrowing of the spine), injury, fracture, spinal weakness after infection or cancer, spondylolisthesis (slipping vertebrae) or abnormal curvature, e.g. scoliosis or kyphosis. In minimally invasive spinal fusion, the surgeon only needs to make an incision of two to three centimetres and can stabilise the vertebrae using a screw, a bone graft from the hip or using donor bone, or a protein called BMP (bone morphogenetic protein) that promotes bone growth.
Minimally Invasive Discectomy
The vertebrae in the spine are separated by cushions known as discs, and these keep the spinal column flexible. If the disc bulges out of the spinal column, this is known as a slipped or herniated disc, and it can press on nerves and cause pain in the back or leg. In a discectomy, the surgeon cuts away a small part of the vertebra and then removes the protruding part of the disc.
In a traditional discectomy, often known as an open discectomy, the surgery involves an incision of around seven or eight centimetres that cuts through muscles. In minimally invasive discectomy, the incision is only two or three centimetres. Part of the disc can then be removed through the small incision.
Minimally Invasive Lumbar Laminectomy
In some people, back pain is caused by a narrowing of the spinal canal (the gaps in the spinal column) and this is known as spinal stenosis. Removing bone and bony spurs from the vertebrae can relieve pressure on nerves and so reduce back pain. In minimally invasive lumbar laminectomy, the surgeon can remove these using specialist tools, through an incision only one to three centimetres long.
You might also like...