Epidurals for Back Pain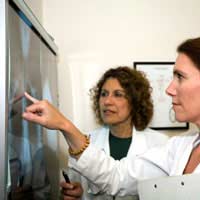 An epidural is a regional anaesthetic delivered through a needle and catheter (a fine tube), into the epidural space by a qualified doctor.
The epidural space, sometimes referred to as the extradural space, is in the spinal canal before the spinal cord, cerebrospinal fluid and duramater. The epidural space contains soft-tissue and veins.
The aims of an epidural are to lower pain sensation, and are most commonly administered during childbirth, pre-operatively to be used as a post-operative pain relief and as anaesthesia for Caesarian section.
When an epidural is used for the management of chronic back pain, the solution injected is a mixture of analgesics and steroids.
It must be performed by an anaesthetist who will feel for the correct space between the vertebrae (made easier by positioning the patient appropriately), and using a sterile technique will administer a local anaesthetic to numb the skin area before inserting a guidance needle/introducer to find the epidural space. When the space is found, a very fine tube is passed and the drugs are injected. The tube can be left in situ and be connected to a machine that will administer the solution at intervals determined by the anaesthetist.
It is usually given in the mid-lumbar or lower back as the spinal cord ends at the 1st lumbar vertebra, under which is the cauda equina, (a bundle of nerves that branch off like a horse's tail). This area of administration lowers the risk of spinal cord injury.
Indications of Epidural Use for Back Pain
Epidurals, have a 50% success rate, and are useful in the management of back pain caused by herniated discs, degenerative disc disease or for spinal stenosis. In conjunction with an exercise programme results can be a reduction in swelling and lowered irritation to the spinal nerves.
It is a temporary pain relief, which can last from one week to a year, and allows the patient to use the time participating in other rehabilitative therapies.
There is usually need for a course of 3 treatments. Though if the first one is totally unsuccessful and no benefit is gained, there is no cause for continuing with the remainder.
Effects/Side-Effects of an Epidural
The desired effects of an epidural are lowered sensations, lowered pain perception and loss of muscle power (if needed for surgical anaesthesia).
Other side-effects can include a drop in blood pressure, as the epidural causes loss of control of parts of the central nervous system, including that which controls blood pressure, and headaches. 'Epidural headaches' are caused when the cerebrospinal fluid leaks out of its space.
The needle or catheter may be misplaced into a vein, not very serious but can cause unnecessary discomfort for the patient.Occasionally, though not very often, the level of block can be a little higher up the spinal column than expected, patients will need to be closely monitored until it has come down to an acceptable level.
Contraindications/Cautions
Epidural should not be given to patients that have bleeding disorders, unless sufficient time has been given to amend existing medications.
Epidurals should not be given through sites of infection or broken or bruised skin.
Certain conditions such as spina bifida, scoliosis or previous spinal surgery may make administration particularly difficult and may have to be avoided.
Epidurals can be a very effective way of managing chronic back pain. The benefits can allow patients to try other longer-term therapies to improve their chances of being pain free in the future.
You might also like...
I have just seen a spinal surgeon, about my back. I have now been off work for 4 months, after an injury. I have L3/4 there is a right paracentral disc protrusion with a substantial caudally migrated disc extrusion effecting the right lateral recess fat where it impinges on the traversing right L4 nerve root. At L4/5 there is a broad posterior protrusion which causes mild narrowing of the exit foramina. At L5/S1 there is a broad posterior disc protrusion which indents the thecal and causes mild narrowing of the exit foramina bilaterally although no impingement of the exiting L5 nerve root is demonstrated. The conus terminates at L3/4 and imaged cord returns normal signal. Conclusion, L3/4 disc extrusion causing right lateral recess stenosis where it on the right L4 nerve root. This is all alien to me, but what he is suggesting is some injections, he said that I would have to go in and put under, because there would be allot of injections, I am still wondering what is going to happen long term, I am not a Doctor, therefore I don't understand all the terminology they use. Would I be able to go back to work, I work in maintenance, and there is lots of lifting bending, crawling and stretching. And when would I be able to go back. Will my condition improve, or are we masking the pain. I'm just so confused. Hope some one can help and explain some of this so I can understand.
trev
- 15-Oct-15 @ 5:56 PM