Correct Posture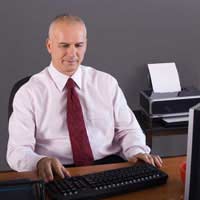 Correct posture is something that many of us would benefit from in the workplace and indeed at home whilst spending many hours in the seated position.
Affect of Poor Posture
Many people fail to realise that incorrect posture in the seated position is one of the main causes of back pain and other associated problems with the back, spine, lower abdomen and intestinal areas.
As many of us spend many hours in the seated position in the workplace it is important to have the correct chair to sit in. Your Health and Safety representative will be responsible for making sure that all staff members have adequate space to work and also have the correct equipment to make the job easier.
Adequate Working Area
Having a decent chair and desk to work at can make all the difference and it is important that if you feel your chair is not aiding in helping you achieve the correct posture you should consult your Health and Safety representative immediately.
A well designed seat – either in the workplace, the home or in the car on long journeys – will help alleviate fatigue and also muscle soreness, numbness and other ailments.
Achieving and maintaining a correct seating posture is the amalgamation of several factors. These are:
Seat Width
Lumbar Support
Seat Angle
Seat Depth
Armrest Height
Seat Height
We all have different physiques and body frames so the right seat matched with the right individual is a must. For example if you are tall – which can sometimes mean a long back – then having a chair with a short back is not going to aid in helping you achieve the correct posture. The chair must suit the individual and to this end your Health and Safety representative should endeavour to make sure that each individual in the workplace has a seat that is best suited to their framework.
Ensuring that each of the items on the aforementioned list is taken into consideration -when allocating an employee a seat - is the best way to reduce the risk of back injuries. It should also be noted that throughout the course of each year many thousands of employees take time off due to problems with their back or spine. Ensuring they have the correct seat would drastically reduce the amount of sickness time lost to conditions relating to the back and spinal areas.
For the best possible posture the individual should be able to sit at roughly 110o (degrees) and if they are using a computer their monitor should be raised so that it is almost at eye level, this prevents strain on the neck and also increases visibility for the user. In addition to this it may be necessary for smaller individuals to have a proper footrest that will allow their legs to be raised slightly from the ground as opposed to them having to sit forward to have their feet on the floor.
Being able to raise the legs will keep the blood flowing and will reduce the chances of numbness – and in some instances – deep vein thrombosis – a condition that is not just limited to long haul air travel.
Again if in any doubt your Health and Safety representative should be your first source of advice and if you do suffer from back problems as a result of incorrect posture a consultation with your GP might also prove useful.
You might also like...