Cox-2 Inhibitors and Back Pain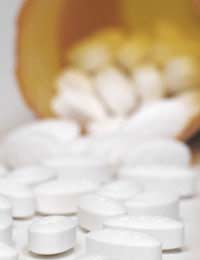 Cox-2 inhibitors are a new class of drugs that can be used to treat back pain. They were developed over the last 20 years and first became widely available in the late 1990s. Some cox-2 inhibitors have been associated with an increased risk of severe side effects, particularly cardiovascular complications. A review of the information from clinical trials and from patients using these painkillers led to one drug, Vioxx, being withdrawn from use in 2004. Another cox-2 inhibitor was withdrawn the following year.
Today, celebrex is a commonly used cox-2 inhibitor and can treat back pain, joint pain and acute pain that is due to underlying inflammation. It is commonly given to people with severe pain from arthritis, back injuries, menstrual cramps and neck pain.
How do Cox-2 Inhibitors Work?
The drug contains and active ingredient that blocks an enzyme produced by the body, called cox-2. This is an enzyme that acts within the pathways that produce prostaglandins, which play an important role in the inflammatory response. Blocking cox-2, therefore tends to reduce inflammation, which is helpful in reducing chronic pain over time. All cox-2 inhibitors are
non-steroidal anti-inflammatory drugs (NSAIDs)
.
Other drugs in this class include ibuprofen, and they are generally known for causing stomach irritation. This is because they block another enzyme, cox-1, which helps create and maintain the protective lining in the stomach and intestines. Cox-2 inhibitors block cox-2, so reducing inflammation and pain, but do not block the sister enzyme, cox-1, which makes them kinder on the lining of the stomach. Drugs such as celebrex, which is available on prescription only, are particularly useful for patients who find it difficult to tolerate other NSAIDs because of their gastric side effects.
Even though cox-2 inhibitors are less likely to affect the stomach, the general advice is that they should always be swallowed shortly after eating, so they don't get the chance to irritate the stomach when it is empty.
Who Should Avoid Cox-2 Inhibitors
It is possible to be allergic to cox-2 inhibitors such as celebrex and people who are allergic to sulfonamide-like drugs or other NSAIDS should also avoid it. Because of the increased risk of stomach irritation and ulcers, should not take a cox-2 inhibitor, or any type of NSAID if you have had a stomach ulcer in the past. It is generally not a good idea to take this type of pain killer if you have asthma, or if you are pregnant.
Two different cox-2 inhibitors have been removed as a therapeutic option in many countries, due to the evidence showing that they increased risk of having a heart attack or stroke. More recent evidence shows that taking the newer cox-2 inhibitors also leads to some increase in risk, but this is no greater than that seen in patients taking other NSAIDS.
Other Applications of Cox-2 Inhibitors
As well as therapeutic use as pain killers for osteoarthritis, neck pain and back pain, cox-2 inhibitors show some promise as anti-cancer drugs. Some tumours that develop in the digestive system and in the brain over-produce the enzyme cox-2, so treating affected patients with cox-2 inhibitors can reduce the growth of the cancer. Research is still in progress to understand how cox-2 inhibitors such as celebrex work in cancer, and an analog of this particular drug has been produced that shows even greater anti-cancer activity. To date, however, no cox-2 inhibitor has yet been approved for use in cancer treatment.
You might also like...