Chiropractic Treatment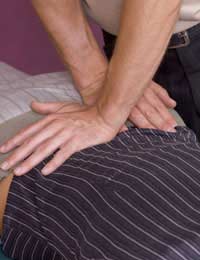 Chiropractors are fully registered practitioners who aim to diagnose and treat pain in those suffering problems of the joints, ligaments, tendons and nerves, especially of those relating to the spine, and try to restore normal function of the body.They rely on using a hands-on approach by the process of manipulation of the spine without the use of drugs surgery. Occasionally the manipulation of the extremities is required to alleviate symptoms.
Founded in 1895, chiropractic treatment was once thought of as a purely complementary and alternative therapy, their importance is now widely recognised by medical and healthcare professionals as a beneficial and legitimate aid in the treatment of spinal conditions.
The theory is based upon the misalignment of the spine, particularly that which interferes with the nervous system.
Indications for Chiropractic Treatment
Many mechanical problems of the back can benefit from the consultation of a chiropractor, with treatments including the freeing of stiff joints which in turn will lessen nerve irritation.
The Practitioner will take a full history from the patient and will perform a thorough physical examination. Using an holistic approach the chiropractor will ask many questions relating to occupation, diet, existing exercise programmes and lifestyle and a treatment plan devised using this information. They will also help to improve posture and can give advice on preventative measures to avoid a recurrence and can help suggest activities and exercises that will help strengthen the spinal components, and those to avoid.
They use their hands to gently manipulate the spine aiming to make minor adjustments to its alignment using fully researched and reliable techniques.
Most patients present with chronic lower back pain, with muscular and nerve irritations, which have no known cause.Chiropractic treatment is contra-indicated in the presence of certain arthritic problems, cancers, dislocations and fractures.It is essential that the patient informs the practitioner of any existing and diagnosed complaints before treatment begins.
How to Find a Chiropractor
There are around 1,300 licensed Chiropractors within the United Kingdom, with many specialising in sport's injuries.It is possible to self-refer to a Chiropractor, using search engines on the internet or by using telephone directories, but it is far safer to book sessions from someone who has been recommended, either by a healthcare professional or a previous patient.
How Much Does a Chiropractor Cost?
Sometimes chiropractic treatment is available within the NHS, but not all Trusts will offer this and many people will have to be seen privately. A recommendation can still be sought form your GP.
A typical session of between 30 minutes and an hour, will usually cost between £30 and £80, with some patients requiring only one visit. Other patients, depending on their condition, may need a series of sessions to provide the best outcome of treatment.
Chiropractic treatment is now seen as a valuable aid to conventional medicine. Sufferers may sometimes benefit from having their pain relieved by using techniques that make small adjustments to their spine without the need for medications and surgery, both of which carry risks and side-effects, though often chiropractic treatment is used with a combination of analgesics and anti-inflammatory drugs.
You might also like...