Treating Spinal Injuries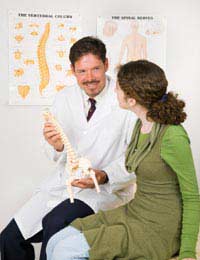 Spinal cord injury as a result of a car accident or fall is always serious. If the back is broken, it is possible that all function below the break will be lost, so walking will be impossible and bladder and bowel control will be lost. The higher the break, the worse the effects; a broken neck is the very worst scenario, in which all bodily functions, including breathing, can fail. This condition is known as quadriplegia and the most famous person affected is probably the late Christopher Reeve, who battled very bravely with his injuries for many years after breaking his neck in a horse riding fall.
Can the Spine be Repaired?
Nerves generally do not regenerate very well. Small, peripheral and spinal nerves may grow back a little, but the spinal cord cannot recover from major damage as would be sustained when the spine is fractured. There is active research in this area and some promise that spinal cord stem cells may one day provide a way to nurture a damaged spine to be able to recover some function. We are a long way from that day, however.
Treatment for Spinal Cord Injuries
Although the spine cannot be mended, we now understand a lot more about how to treat people who have suffered spinal cord injuries. The first few minutes and hours are crucial and this is why if someone is suspected of having damaged their back or neck in an accident, they are never moved unless trained paramedics are there to assess them and use the correct restraining splints and equipment.
The first thing that happens after injury is that the spine swells. This is a normal body response but it often does more damage. As the spine swells, it cuts off nerves, which then die and their function can never be recovered. Emergency treatment at the scene or in an air ambulance or paramedic ambulance involves steroid injections directly into the spine to stop this swelling until emergency surgery can be carried out to relieve potential pressure from being put on the spine.
Spinal Cord Shock
If the correct treatment is applied during the first 8 hours after injury, there is a greater chance that the injured person will recover their ability to walk in the long-term. It still takes a long time, however, and full recovery may take at least a year. One thing that modern medicine has not yet been able to do is to prevent spinal cord shock. This is also a natural body response to injury and it can begin within a couple of minutes or within a few hours of the accident. The spine basically shuts down, preventing all nerve signals passing beyond the point of the injury.
This means that it is difficult to assess in the first few days exactly how much the spinal cord has been damaged. The person affected is initially paralysed and unable to feel any sensations below their injury. After a few weeks, the spinal cord shock starts to wear off as the body systems recover and start to get back to normal. If emergency treatment has prevented any undue pressure on the spine, and it has not swollen too much, gradually sensation and function starts to come back.
Prognosis After Spinal Cord Injury
After the first few days, it is essential that the person who has been injured gets good supportive care. This will involve being in hospital for several weeks, and then will focus on emotional as well as medical support. When it is possible, doctors will try to move a badly injured patient to a special spinal injuries unit, where the best possible care can be given, and where the fullest rehabilitation can take place over several months.
You might also like...