Can Diet Improve Back Pain?
By: Suzanne Elvidge BSc (hons), MSc - Updated: 17 Dec 2010
|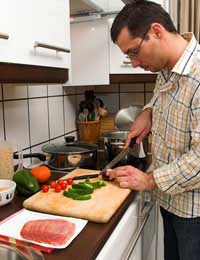 Diet may have an impact on certain types of back pain, but just as there isn't one simple cause of back pain, there isn't one simple diet solution for back pain.
Losing Weight
Whatever the cause of back pain, being overweight puts an extra strain on the joints of the back, especially in the lower part of the back. This is known as the lumbar region (see 'Weight Gain and Back Pain'). The best way to lose weight is to eat fewer calories in the form of a healthy diet based on fruit and vegetables, low fat proteins and whole grains, and avoid eating too many high-fat, high-sugar foods. Even losing just 10% of the body weight has a significant effect on the joints.
It is a good idea to talk to a doctor before starting a weight loss regime.
Back Pain Caused By Osteoporosis
Osteoporosis is a disorder where the bones lose mass and become weaker. Osteoporosis can cause back pain when the weakened vertebrae (the bones of the spine) become damaged (see 'Osteoporosis and Back Pain').
Osteoporosis seems to get worse more quickly in people with low levels of vitamin D in the blood, and low levels of vitamin D have also been linked with low back pain. A balanced diet rich in calcium (found in green, leafy vegetables and dairy products) and vitamin D (in dairy products, or made in the skin in sunlight), especially in young people, can help prevent osteoporosis.
Back Pain Caused By Rheumatoid Arthritis
Rheumatoid arthritis is a disease where the joints become inflamed and painful, and while it generally affects the joints in the hands, wrists and feet, it can also affect the joints in the neck and back. There are many different theories around the effect of diet on rheumatoid arthritis, some of which are supported by science and some of which may just be old wives' tales.
A review of scientific studies of diet indicated that a Mediterranean or vegetarian diet may reduce the pain of rheumatoid arthritis, but neither diet had an effect on physical function or morning stiffness. A study of a combination of fish oil supplements and a diet low in arachidonic acid (found in animal fats) showed that this might lead to improvements in the inflammation (and therefore the pain) in rheumatoid arthritis.
Some people have suggested that avoiding vegetables related to nightshade, including aubergines, peppers, potatoes and tomatoes, might help rheumatoid arthritis pain, but no studies have proved this.
Back Pain Caused By Osteoarthritis
In spinal osteoarthritis (spondylosis), the cartilage covering the joints of the spine wears away, the discs begin to degenerate, and pieces of cartilage can cause inflammation (see 'Spinal Arthritis'). This causes pain and stiffness. There are studies that suggest that the supplements glucosamine and chondroitin may help in knee and hip pain in osteoarthritis. However, there are no studies confirming the same effect in back pain. Be aware that chondroitin can interact with drugs taken for blood clotting disorders.
You might also like...