Physiotherapy for Back Pain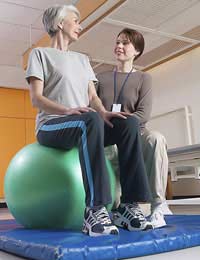 Physiotherapy is treatment available to those who may need assistance in developing or restoring the body's movements and functions that have been affected by the ageing process illness, disease or injury.
A physiotherapist is a professional who has undergone a difficult and technical training programme within an academic establishment. They are responsible and accountable practitioners who must base their treatments and methods on well researched and approved techniques.
The aim of physiotherapy is to identify problems and maximise potential movement by a series of individually tailored methods. This is achieved by the physiotherapist gaining an insight into the client's lifestyle (social, psychological and cultural factors), assessing current mobility, identifying weaknesses and determining desirable outcomes. These are accomplished by using verbal and physical assessments and observations, until a full client history has been understood.
A variety of questions will be asked as how the complaint occurred, what aggravates the pain, prior range of movement, how long has the pain been present and where does the pain originate?
From these assessments a plan of treatment will be devised, and each person will have their own programme which may last one session or multiple sessions over a long period of time. Many people benefit from the advice given by a physiotherapist and are able to take a self-help programme away with them that can be accomplished at home.
Observation of current movement will determine what actions are aggravating the condition.
Many physiotherapists specialise in a specific area such as sports physio or with unconscious patients and undergo training in these specialist subjects.
Treatments Provided By a Physiotherapist
Physiotherapists offer a variety of treatments; these are manipulation, massage, exercise, electrotherapy and hydrotherapy. Manipulation and massage use different techniques for a differing range of reasons, they both stimulate blood circulation, help reduce swelling and aid in pain relief. Exercise hopes to increase movement by building strength of the musculoskeletal system. Physiotherapists can provide a programme for overall fitness or can target certain areas of the anatomy for specific reasons. Exercises are usually repetitive with a gradual increase in duration and range.
Electrotherapy uses the administration of electrical impulses through the muscles to create muscular contractions which in turn override pain messages sent to the brain.
Hydrotherapy uses the resistance and weightless environment of water to increase the range of movement, reduce muscular tension, increase circulation and reduce pain.
All of these methods increase the overall well-being of the patient which in turn will help reduce pain and its related stress.Physiotherapists can also teach how to achieve and maintain a correct posture, approved lifting and handling techniques and how to avoid general hyper-extension and flexion of the muscles which add to the increased risk of developing back pain.Physiotherapy can initially be uncomfortable but with determination and compliance, the discomfort will diminish and pain will decrease as the treatment progresses.
Physiotherapy is available through the NHS and referral should be made by the GP or orthopaedic /spinal specialist.Many people benefit from physiotherapy and the techniques learned can be practiced at home and add to the prevention of back pain.
You might also like...