How Flotation Therapy Helps With Back Pain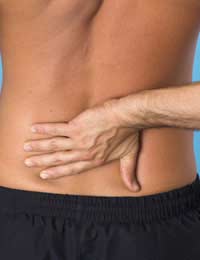 Developed in the 1950s, flotation therapy is used to improve healing processes in back pain by allowing the individual to encounter a sense of deep relaxation.
The scientific principle behind this treatment is based on the theory of R.E.S.T, (Restricted Environmental Stimulation Therapy).
What Is A Flotation Tank?
A flotation tank is a fibre-glass case that is filled with around 10 inches of water with a very high concentration of salt, in which people lay.
How Does A Flotation Therapy Work?
A flotation tank enables the user to be suspended in a gravity free environment which promotes deep levels of relaxation that can help heal the body from the inside out.
By reaching a state of relaxation, flotation therapy allows aches and pain to be relieved, including back pain. In a gravity free setting, the pressure is relieved from all joints, allowing the surrounding muscles and tissues to relax and become tension free. This is especially useful in helping back pain, as there are many joints within the spine, with a complex structure of muscles, tendons, ligaments and nerves.
It has been proven that whilst in a flotation tank, users have a significant drop in blood pressure and a decrease in heart rate which allows the blood to circulate more efficiently. It is known that pain causes both a rise in blood pressure and pulse rate, so flotation therapy can alleviate pain by both methods.
Within the blood are chemicals called endorphins which act as the body's natural pain killers, by interfering with the pain impulses and receptors. As circulation is increased, so too is the presence of endorphins. The release of endorphins is also associated with helping to break the cycle of chronic pain and depression.
Production of another chemical, lactic acid is altered by the use of flotation therapy. Lactic acid build-up can cause muscles to spasm or cramp. As the use of a flotation tank causes a drop in oxygen consumption, the metabolic rate is lowered which causes a decrease in lactic acid production. It is particularly useful in the treatment of back aches, pains, strains and sprains, especially those relating to arthritis, traumatic injury and osteoarthritis.
Another apparent benefit of a flotation tank is that one hour's relaxation in the tank is the equivalent to four hours of restful sleep. Sleep deprivation is something that those suffering with high levels of back pain can experience regularly. The salt that is used in the tank, in such a high quantity and what causes the person to float (much like the Dead Sea), is also known to contain properties of muscle relaxant.
How Can I Find a Flotation Tank?
The easiest way to access a flotation tank is to ask either your GP, local Physiotherapy department or even the nearest beauty salon or health spa. Tanks may also be found using a telephone directory or internet search engine.
A typical session lasts around 50 minutes and is approximately £45, though some providers offer discounts for regular users or those buying session in advance.
Flotation therapy obviously has some benefits to users, whether they are clinical or psychological. If used in conjunction with other therapies, chronic back pain may be easier to manage.
You might also like...