Back and Neck Braces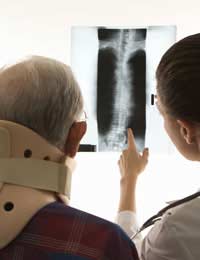 Back and neck braces and supports are widely used and recommended for their benefits in helping with the recovery of back pain.
They are a safe non-invasive support that is applied externally and fitted specifically to each individual's shape and frame, and have been around since approximately 2000BC (although supports at that time were significantly more basic that we have now).
Aims of Using a Brace
A brace or support is used in the hope that it will help the spinal column achieve a position that will aid the spinal condition diagnosed. These positions can be upright, neutral, hyper-extended, flexed or laterally flexed. The orthopaedic specialist will determine which of these positions is appropriate for each person.
Types of Braces and Supports
There are around 30 different types of braces and supports available on the market, all with their own specific qualities.Each orthopaedic specialist will have their own ideas of which is the most appropriate device to be used, how it should fit, how long it should be worn etc, but with almost 100% of specialists recommending their general use, this shouldn't be a problem.
Indications for Use
In general, braces and supports are used to prevent extreme mobility, to aid in muscle tone, in the presence of osteoporosis, after a trauma post-operatively or as a method for helping correct spinal deformities such as scoliosis, for which the Milwaukee brace is favourable, especially in the incidence of a high thoracic curvature.
Neck Braces: these stabilise the cervical spine ,usually indicated post-operatively or after a traumatic injury. A soft collar maybe applied to support a stable cervical spine fracture, but if the fracture is not stable, the use of a halo may be required. These are rigid and may need temporarily fixing in position. The use of soft collars is no longer recommended in the presence of a pure whiplash injury as the immobilisation is detrimental to the healing of the soft tissues.
Trochanteric Belt: these are used for stabilising the sacro-iliac joints or a pelvic fracture. They are made of a thick, tough wide material that is worn around the low waist.
Sacroiliac and Lumbrosacral Belt: these are used in the presence of general lower back pain of no known cause, and helps prevent excessive mobility by exerting a force onto the joints between the hip and the sacral area.
Rigid Braces: these are commonly used in the incidence of lower back pain, and helps keep the lumbar spine in a rigid and neutral position.
Hyper-extension Braces: these braces prevent excessive bending and are used for frontal compression fractures around the thoracic and lumbar spine junctions, and also post-operatively following a spinal fusion procedure (where two spinal joints are fused together permanently).
Availability
Many NHS organisations will have a certain amount of back supports available if your GP has referred you to a specialist. There are however a great many available on the general marketplace, as many people, especially those in occupations that require heavy lifting, wear them everyday as a preventative measure.
Typically they cost between £10 and £60 depending on type of brace or support required.
You might also like...