Group Talking Therapy in Back Pain
By: Suzanne Elvidge BSc (hons), MSc - Updated: 5 Aug 2013
|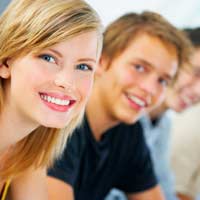 Low back pain is one of the most common reasons for people to visit the doctor and take time off work. Back pain can be as a result of a physical injury, or can be linked to something like stress or depression see Can Back Pain be All in the Mind
Whatever the cause of back pain, it's possible that cognitive behavioural therapy (CBT), a talking therapy, will help relieve the symptoms of back pain.
What Is Cognitive Behavioural Therapy?
A form of psychotherapy, CBT looks at situations and changes what people think and feel, and what they do, in these given situations. This can include breaking problems down into smaller parts.
Studying CBT in Back Pain
In a study carried out by Oxford University and the University of Warwick and published in March 2010, 468 people with chronic (long-term) low back pain had six sessions of CBT as part of a group, as well as standard care (such as painkillers and advice on staying active) for their back pain. Another 233 people with back pain just had standard care.
The doctors designed the CBT sessions to help improve the way that people managed their condition, looking at how people thought about back pain and physical activity. This included stopping negative thoughts and overcoming fear of movement and injury. The sessions also looked at increasing people's levels of activity, and teaching them relaxation techniques.
People's back pain improved through the six months of the CBT sessions. At the end of one year (six months after the treatment finished), about six in 10 people who received CBT with standard care said that they had recovered from their back pain, compared with just three in 10, who had only received standard care.
According to the researchers, CBT could be a lower-cost and more effective way of treating back pain than some other forms of treatment, such as manipulation, acupuncture, posture education or guided exercise programmes, because it showed better improvements than these kinds of treatments.
How Does It Work?
People with back pain will often try to avoid moving, which can cause stiffness and muscle weakness, and slow down the healing of the injury. As patients undergoing CBT learn to cope with and stop negative thoughts, it's possible that CBT may teach them how to live with, accept and manage their back pain, as well as taking away any worries about moving, which could help them keep active, which helps the back to get better.
As this treatment also included relaxation techniques, these will have helped with the muscle tension and stress associated with back pain see Back Pain and Stress
Many people with depression suffer from back pain. CBT is an effective treatment for depression, and helping the depression may also help the back pain.
How Can I Get CBT For My Back Pain?
Some health authorities provide CBT free of charge on the NHS, so it is worth talking to a GP to find out if it is available.
You might also like...