What is Back Pain?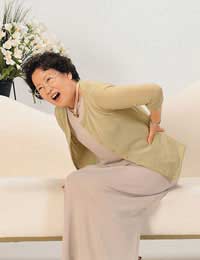 Feeling pain is nature's way of telling us that there is something wrong with our body. Nerve endings transmit signals to our brain and these sensory and sometimes emotional messages are translated in a way that informs us that we are feeling pain. It is a warning mechanism that allows us to recognise when we have a physical problem.
The spine and its associated structures are involved in almost all our physical movements; it is therefore very vulnerable to damage and prone to injury.
The issues regarding back pain are very diverse; as each individual's perception, coping mechanism and pain thresh hold is different. A typical encyclopaedic interpretation may describe back pain as 'dorsopathy' (a general medical term for spinal disorders), involving muscles, joints, nerves, bones, soft-tissue any other spinal parts. Due to the variety and complexity of these possible contributory structures, there is a large spectrum between the degrees of pain a sufferer might encounter. Pain can range from a nagging, constant and dull ache which can cause moderate discomfort, to a sharp and sudden agony that can be extremely disabling.
Types of Pain
There are two types of pain; acute and chronic. Acute pain is described as being short-term, having a sudden onset, feeling sharp muscle spasm, can be easily located, and is usually quite constant where the only variable is the severity of the pain. Acute back pain can cause shooting pains down both legs and is often bought on by trauma or injury. Sufferers have normally resumed to full activity within six to eight weeks.
Chronic back pain is more difficult to define. It can range in severity, location, description and the term is used if the pain has been present for 12 weeks or longer. Chronic pain is also recurrent and each bout of pain can vary in duration and seriousness. Each episode usually differs from the last and no two patients will experience the same type of pain.
Sufferers often use a wide range of vocabulary to explain their pain as it may vary episodically and can be endured for many months or years. This type of pain can be periodic but is most often a 'dull ache' that can seriously affect mobility and the individual's ability to carry out daily tasks, if the task requires physical movement. Medical practitioners may question whether pain levels alter or if the individual's levels of tolerance have adapted to living with pain. Chronic pain is also linked to depression and carries with it many psychological issues, which may need treating alongside the pain relief therapies available.
Lower back pain, sometimes referred to as 'lumbago', can incorporate other anatomical structures such as the buttocks and thighs and may affect one side of the body more than the other or each side equally.
Any type of back pain may cause other symptoms such as pins and needles in the hands and feet, weakness in the extremities, loss of sensation or even total numbness.
Back pain is not a specific diagnosis as it is a general term and is usually documented as a symptom. The presence of back pain does not usually indicate a sign of any underlying disease and many people spend several years suffering with this disorder.
You might also like...