Moving And Handling Heavy Objects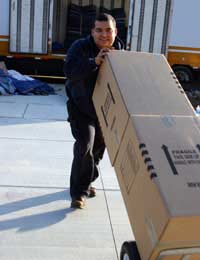 Back injury causes more days absent from work than most other complaints and costs the country millions of pounds in lost revenue, sickness benefits and other financial implications.It is not just at work though where injury can happen as the home can present many risks as can many sports and hobbies; in fact any activity has the potential to cause back pain or injury especially in those who have suffered from a back problem in the past.It is therefore essential that we all try and take preventative measures when participating in activities or tasks that pose the greatest risks and try and prevent back injury from occurring.
Preventative Measures
Before moving or handling any object ask yourself a few questions that may help avoid the need for moving and handling at all:
Does the job really need doing?
Is there anyone else around who can help or is more physically suited to performing the task?
Are there any aids available to help move the load?
Performing The Task
If you do find that you have to move a heavy or awkward object and there are no aids around to support you there are ways in which moving and handling of the item can help reduce the risk of injury.Where possible, ask someone to help you. If you try and move the item without lifting as a way of assessing the weight and you are struggling to do this, it is unlikely that you will be able to manage lifting it and will therefore need help from someone else or a lifting aid.When bending to take hold of the item always remember to bend your knees. Keep the load pulled in towards the middle of your body.
Do not lean forward or back wards, keeping the spinal column straight and in alignment.Try and transfer the weight of the load through your stomach to your legs hence relieving the pressure and force upon your vertebrae and discs.Keep the load close to your body.
When lifting, keep feet a shoulder width apart and the whole body facing the load.Avoid any twisting movements that might strain your back.If the load is extremely heavy and you know you are going to struggle, don't do it.
Improving Your Capabilities
If you find that you need to perform a lot of moving or handling on a regular basis there may be some ways of ensuring that you are protecting yourself to some degree against injury.Exercise and resistance activities will help to strengthen the muscles and ligaments of the muscular skeletal frame.A diet rich in nutrients such as calcium and protein will help provide strength and substance to your bones and muscles.If needed wear a support belt that will help to provide strength and support when moving heavy objects.
Moving And Handling People
Those who have to move and handle people within the scope of their job will have set guidelines, policies and practices for this event, but for those who do this on a daily basis at home, often caring for a relative, it is important to follow some simple rules that will help prevent injury to both you and the person whom you are trying to move.Where ever possible ask the person to help you and encourage them to do as much for themselves as possible thus promoting independence.Ask yourself if the task can be made any easier:
Can the person be moved in their chair?
Can the destination be brought any nearer, for example another chair, a bowl for washing in etc
Are all potentially dangerous or hazardous items of clothes been removed for example long chains, high heels, handbags etc?
Can the person hold an aid that may help them lift themselves up?
Is the pathway of the intended journey clear?
Are there any aids available to you that may help reduce the need to move and handle the person manually?
Protecting your back from injury or strain is very important as once it has been damaged it can take a long time to heal and may have the possibility of developing a long term weakness.Any preventative measures or techniques that can be performed to reduce the stress and weight of the load should be taken.
You might also like...