Lower, Middle and Upper Back Pain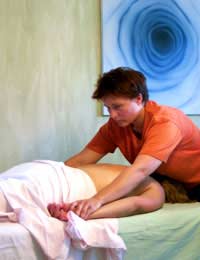 Back pain can present itself in any region of the back and sometimes localised pain can increase and radiate to other areas. It is important to remember that most back pain is not serious, but if it persists, advice and diagnosis by your doctor is essential in order establish the cause and devise an appropriate course of treatment.
Lower Back Pain
Lower back pain, which can include the buttocks, can be caused by many different factors, though muscle and ligament damage are the most common. Muscle and ligament strain or sprain may be due to sudden movements or injuries, bad posture (including the use of inappropriate seating and mattresses), and can cause muscle spasms and compresses nerves. Nerve damage can result in sciatica which can cause pain to radiate down the legs.
Lower back pain can also be caused by a herniated or 'slipped' disc; the pressure of a protruding disc can cause nerve damage.Other possibilities include ankylosing spondylitis (arthritis, treat with anti-inflammatory medications), spinal diseases, collapsed vertebra (very painful but not serious), spondylosis (spinal osteoarthritis), spondylolisthesis (a displaced vertebra) or a kidney infection.
In the event of lower back pain, treat with anti-inflammatory drugs and if symptoms persist for longer than 3 months, seek medical advice to determine the cause.
Middle Back Pain
Middle back pain is a fairly common complaint. Causes of short term middle back pain could be bad posture, sudden twisting or turning, muscular strains and sprains, obesity or pregnancy.
If the pain persists, diagnoses could include a herniated disc resulting in severe pain, numbness in the limbs and nerve damage; arthritis, symptoms may consist of a decrease in mobility, inflammation of the joints, nerve damage or worn cartilage; or osteoporosis where bone density is lost increasing the chance of a bone fracture.
Normal treatments include anti-inflammatory medication, or the prescribed drugs for arthritis. Very occasionally surgery is recommended to correct the protrusion of an intervertebral disc bulge, or to relieve compressed nerves.
Massage is not recommended with the incidence of a disc herniation or osteoporosis.
More serious conditions such as cholecystitis, pancreatitis, or heart disease can present with middle back pain and these are more easily diagnosed with the presence of other symptoms relating to the possible disease. If pain is not the only symptom present, seek medical advice.
Upper Back Pain
This type of back pain is not particularly common and can be very painful.
Usual causes are either joint dysfunction or muscular irritation, with a chance of a spinal disease and very rarely, but still possible, is the occurrence of a disc herniation.
Joint Dysfunction
Joint dysfunction means a change in the actions of the joints that attach the ribs to the thoracic spine.Treatment usually includes spinal manipulation by a chiropractor, physiotherapy and anti-inflammatory medication.It is possible that this joint dysfunction could be due to a trauma injury, usually a road traffic accident and could be a symptom of a vertebral fracture.
Muscular Irritation
This occurs when the muscles around the shoulder blade (scapula) become irritated. They are large muscles and causes of irritation are normally due to repetitive movements, over-exertion, lack of strength and tone, sports injuries or trauma from an accident.
Treated with anti-inflammatory drugs, exercise (sometimes with the inclusion of a physiotherapist), massage and acupuncture.
As with all pain, if symptoms persist seek medical advice.
You might also like...