Would a Chiropractor Help a Frozen Shoulder?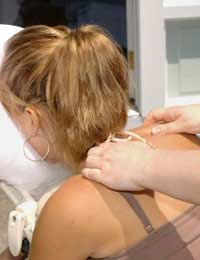 Q.
My wife suffers from a frozen shoulder she has had this problem for about 2 months, she has seen her doctor and visited A&E. She has been given pain killers and been told that is all they can do for her. She is diabetic and has anginer and does not want to keep taking pain killers.
Would a chiropractor be of help and how do we find one?
(Mr peter harmour, 9 September 2010)

A.
A frozen shoulder occurs when the tissues surrounding the capsule of the shoulder becomes inflamed. This causes the tissues to thicken and eventually bond with each other leaving the sufferer less able to move the joint and often in a lot of pain.
For some people, simple painkillers are enough to ease the pain and allow them some movement in the joint, whilst others find that over time the painkillers are not as effective or the loss of mobility gets worse. In these instances seeking an alternative therapy is often a good idea and a chiropractor may be able to help.
Chiropractors are specialised health care workers who try and encourage the body to use it's own resources to heal itself following injury or trauma. Their practice involves using their hands to gently manipulate the body and increase the flow and efficiency of the nervous system. The aim of this is to ease stiffness, pain and problems with mobility at the same time encouraging the individual to become more self-aware and make adjustments to their lifestyle, diet and exercise regimes as necessary.
In the instance of a frozen shoulder, most chiropractors advocate early intervention for the best results before the scar tissues become too severe. When this happens the person may not be able to tolerate much manipulation as the pain is too great or the damage already too severe.
It is very likely that you have a reputable chiropractor in your local area and it may be worth either asking your GP for a recommendation or at least a letter explaining your clinical diagnosis or having a look in your local telephone directory for a specialist; it may be possible to find one who specialises with shoulder problems and injuries.
Chiropractic care can be expensive however and may require your wife to attend several appointments before she feels much benefit so make sure you know exactly how much each session is going to cost, how long it lasts and how many sessions are likely to be needed.
Good luck in your search and we hope your wife finds some relief from her symptoms soon.
You might also like...