Is an Epidural Safe for a Kidney Transplant Patient?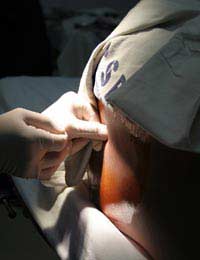 Q.
I have just been referred for a epidural to relieve chronic back pain but I am worried as I am a kidney transplant patient, do you think it is safe to have it done?
(Miss Julie Roache, 4 December 2008)

A.
As a kidney transplant patient you are correct and very sensible to be cautious with any treatment you are about to receive and have every right to question your safety. Having a pain relieving epidural after a kidney transplant can be safe providing your blood pressure is stable.
Epidurals commonly cause a drop in blood pressure after it has been administered. This is known as hypotension and whilst it may not be too much of a concern for someone who is otherwise in good health, it may be a consideration for people with your circumstances. If your blood pressure drops too low after the epidural is given it may (not definitely) affect your kidney.
As you have a medical history it is reasonable to expect your epidural to be carried out by a consultant who will almost definitely be aware of your previous surgery. As a precaution however, please do express your concerns before the procedure and ask as many questions as you feel you need to be reassured that the epidural will help you.
As it is a pain relieving epidural, you will still retain mobility and not lose the function of the lower half of your body like you may if you were having surgery.
With regards to the procedure as a pain relieving issue, it is very safe and can offer many patients a lot of relief from very debilitating chronic back pain which unfortunately, many people suffer from. It is assumed that you have tried many other forms of pain relief which have either ceased to work or are not adequate enough for your symptoms.
When an epidural is given to relieve back pain the drugs used are a combination of local anaesthetic and steroids. These start acting soon after the epidural has been given and the effects can last for anything between a week or two up to a year. This can be very beneficial for those with chronic back pain as they can strengthen the back and stomach muscles whilst they are experiencing less pain which may help to relieve the symptoms long term.
You might also like...