Can Exercise Help Mild Disk Bulge?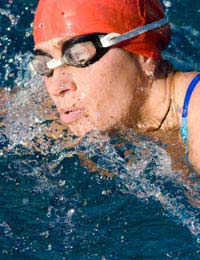 Q.
I'm having a mild disk bulge between L4 and L5 of my back bones.
Do I need to undergo surgery to get it corrected or is there any way of getting it corrected through exercise (I'm a good swimmer) or alternative therapy?
(Mr MohanSivaram Ramasamy, 22 September 2008)

A.
Years ago the treatment advised for lower back pain was to rest and do very little until the symptoms had eased. Nowadays doctors realise this actually hinders recovery in almost all cases and the best course of action is to take pain killers and carry on as normal taking regular exercise
As a bulging disc can press on the nerve roots of the spinal cord the pain experienced varies between suffers depending on how much the disc has bulged. For many people the use of over-the-counter painkillers is enough whilst for other prescription drugs are needed in the first few days.
Research has found that by resting or doing no exercise the muscles and ligaments around the spinal cord can become less pliable and can cause more pain to be felt for longer so it is definitely important that you do try and do some exercise to try and keep your body flexible and therefore manage the pain better.
It is also important to choose a suitable form of exercise as some types are not suitable for those with a chronic pain condition or those who suffer from occasional bouts of prolapsed disc. Any activity that involves hard direct contact may not be suitable but those that build up strength and resistance such as jogging, swimming or cycling may work wonders for your back.
You must remember however to warm up and warm down (equally important as warming up in order to prepare your spine and muscles for the exercise and remember to stop whenever you feel pain.
If you take regular exercise that builds muscle tone and helps you lose any excess weight you will probably find the pain experienced is less, as strength is gained and your body holds your weight more appropriately and effectively.
If you haven't taken any exercise for a long time or feel that you are not physically capable of doing any exercise why not visit your gym an arrange an internal induction during which an instructor will advise you on the best equipment for your purpose and health status or see a physiotherapist who may be able to recommend some exercises that can help you prepare for taking some exercise.
I would strongly recommend going back to your doctor and asking whether a regular and exercise-specific plan would be appropriate (with the help and guidance of a physiotherapist) and whether this may help prevent surgery or at least postpone it, or indeed if it is appropriate to exercise at all.
You might also like...