Aerobic Exercise for Back Pain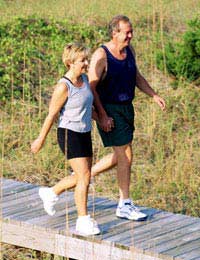 Aerobic exercise means performing a physical activity that causes your heart rate to increase enough to make your body use its oxygen supply to burn fats and glucose. The more oxygen used the greater the carbon dioxide produced, meaning that breathing has to become faster to accommodate this demand.
The aim of participating in aerobic exercise of any type is to elevate the heart rate to increase oxygen consumption, and to achieve a level of manageable breathlessness.
There are two types of aerobic exercise, high-impact and low-impact. High-impact is more challenging and is good when a medium level of fitness has already been achieved.
Low-impact is better for beginners and those who have injuries; it is gentler and participants can build-up gradually to be fit enough to undertake high-impact aerobic exercise.
Prevention
All exercise is good for preventing injuries, with aerobic exercise being especially good. A strong and well-toned body will create a stable and strong spine and spinal structures. Increasing the flexibility and overall strength of the spine can minimise the risk of injury, and if an injury does occur, the pain experienced is likely to be less. High-impact aerobics can actually stimulate bone growth and prevent osteoporosis developing in later life. Low-impact aerobic exercise lowers the risk of 'jarring' the spine, and there is a smaller risk of lower back injury in those who participate in this sport.
By undertaking an aerobic exercise programme weight can be more easily managed and a healthy BMI can be maintained. This decreases the stress put on the lower back and prevents muscles and ligaments from becoming strained.Aerobic exercise also increases the production of endorphins, the body's natural pain killers, meaning that the need for over-the-counter or prescribed drugs will be lessened.
Types of Aerobic Exercise
Walking is a perfect way for beginners to start a regular programme of aerobic exercise. The level of intensity can be altered when needed, it can be done at any time of the day, it is cheap, reliable and can be a social activity if a group does it together. Walking can also be included on holidays, in all seasons and the setting can be varied.
Step-machines are a good alternative to walking if you need something with less impact. Step-machines work on a gliding principle taking away the jolt from walking on hard ground. Step-machines can be a used in a gym or health centre, or indeed in the users own home if finances permit. Again the level of intensity can be increased with competence and level of fitness.
Aqua-aerobics is a fun group activity that can be found in many leisure centres. The weightlessness and resistance caused by the water is good for those with chronic back pain. Again endorphin levels can be increased and heart rate will rise. Most aqua-aerobic providers have different classes depending on the level of fitness and competence at the activity.
Aerobic classes have become extremely fashionable in the last twenty years. They allow for beginners to progress right up to an expert level, with individual classes targeted at each group's level. They provide a social scenario, which can help alleviate the feelings of loneliness and depression associated with chronic back pain.
It is essential for participants of any activity or class to inform their instructor of any existing injury or complaint, as particular exercises may be unsuitable.
Each person should choose an activity that they are comfortable with and that they will not get bored of to ensure longevity. Programmes should start gradually at an appropriate level and build up fitness slowly to avoid an injury being sustained.
Aerobic exercise can be a very good way of preventing any back injuries occurring in the first place. If an injury does already exist, this type of exercise can help to lower pain level experienced and prevent the condition from deteriorating. An exercise programme should become a way of life and included on a long-term and regular basis into every individuals lifestyle.
You might also like...