Exercises to Avoid When You Have Back Pain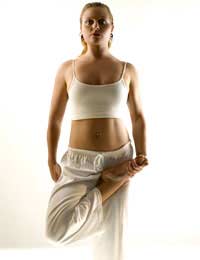 Many people believe that they should stay rested and avoid movement while they recover from a back injury; wrong. Many people believe they should bend and stretch with a back injury in order to 'loosen the muscles'; wrong.
In actual fact the best way of treating back pain is to always maintain a healthy level of fitness, not only does this avoid the incidence of a back complaint, by having healthy and flexible muscles and tendons, the healing process is speeded up.Any exercise that involves the body being put into positions of extreme flexion or extension increase the risk of worsening an existing condition.
There are however a number of activities that can exacerbate a bad back.
Team/High Contact Sports
When you have a back injury it is probably best to avoid sports with a high contact quota until muscles have regained their strength. If a person is suffering from a muscular strain, and receives a blow from an opponent, the weakened muscle can cause the person to induce a more severe injury, especially if there is a fall involved. There are methods of learning how absorb impact properly, but these need to be taught and practised before any injury occurs. These methods are used by professionals and most amateurs are not aware of the techniques.
Golf
A hefty golf-swing can strain muscles and cause further ligament damage by stretching the structures out of their normal range. It is sufficient exercise to practice with a round of 'pitch and putt' so as to avoid the need for a large swing. Golf shoes, especially new ones can be very uncomfortable, which can also aggravate an existing back condition. Due to the amount of walking involved, golf is excellent as a way of maintaining a basic level of fitness, and gentle walks, with the correct footwear, should be encouraged in those who have a bad back. It may be best to avoid hilly terrains until the pain from an injury has subsided.
Cycling
Cycling again, is a good sport for keeping fit, but with the presence of a back complaint, regular breaks should be taken so the position of the body can be altered to avoid stiffness. A comfortable saddle will help to avoid making lower back and sacral back pain worse, as will avoiding rough terrain, which also lessens the risk of a fall.
Weight-Lifting
As obvious as it sounds, weight-lifting, especially the heavier weights will only add to the levels of pain experienced. Lifting a dead weight, even with correct technique will put the muscles and ligaments under unnecessary strain and may result in a worse injury than a simple pulled muscle.
Yoga and Pilates
Always tell the instructor of an existing back complaint, or indeed attend a class specifically for those with back conditions, as many of the postures and exercises used are derived from ballet moves than can be difficult and challenging.Particular caution should be taken with those suffering from degenerative disc disorders.
Swimming
Swimming is good for helping with the symptoms of back pain, but any strokes that encourage the twisting of the head or upper body should be avoided. The technical element involved with the butterfly stroke is especially important to consider in those with a back complaint.
Body-Building
There are many exercises performed by body-builders that should be avoided in the event of a back injury. Abdominal crunches can promote poor posture and cause breathing to become laboured, leg stretches can put unnecessary pressure on the lower back, sit-ups with straight legs can cause strains and sprains in the lower back and should definitely be avoided.
There are many activities that should be approached with caution in the presence of a bad back, but any type of exercise that involves twisting, turning, lifting or impact can be a potential problem.
Always tell the class instructor or team captain of any injuries, wear appropriate clothing and footwear, using supportive bandages and grips as necessary and it is essential to perform a thorough and effective warm-up before beginning any activity.
You might also like...
Number joint Back pain worse after walk and difficult to walk and pain in left leg .i m doing back pain Excersise daily
Haji
- 25-Dec-15 @ 9:37 AM