Spinal Manipulation and Back Pain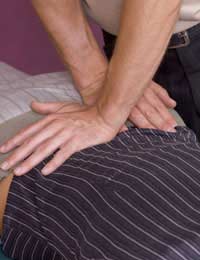 Finding something that can help relieve your back pain can take time, often a few different options will need to be explored before something suitable and effective is discovered. Spinal manipulation is not often a first choice for many people but doctors are now becoming more aware of the benefits of spinal manipulation and are beginning to offer it as a first line of treatment in many cases.
What Is Spinal Manipulation?
The term spinal manipulation sounds more frightening than it actually is and is more common than people generally believe. Physiotherapists, osteopaths and chiropractors have been using the techniques for years without patients even being aware of this term.
Essentially spinal manipulation allows the professional to work on the joints of the spinal column and encourage them back into their natural position allowing the patient to suffer less pain and stiffness and also to try and return to normal mobility.
The manipulation works by putting pressure and counter-pressure either side of the spinal column joints and allowing this pressure to help the vertebrae move using assistance from lubrication provided by the synovial fluid.The pressure may be carried out using sharp thrusts or may involve twisting turning and bending. The technique depends on who is performing the treatment, the individual patient and their specific complaints.
What is Spinal Manipulation Used For?
Spinal manipulation is often used in the treatment of short term back pain that is thought to relate to nerve irritation and muscular strain caused by the vertebrae being out of their normal position. By encouraging the vertebrae to move back into position, the nerves, muscles and tendons can be relieved of the pressure put upon them.
For those with problems with their discs or other back complaints not related to misaligned vertebrae the treatment may offer no relief.
Will Having My Spine Manipulated Hurt?
If you are in pain with your back the chances are that this type of treatment will cause some discomfort. The type and duration of the pain will depend on the type of treatment given. Obviously the type that offers short sharp thrusts will cause pain very quickly but this may be short in duration whereas the method of twisting and bending may not incur such sharp pain but the pain that is experienced may last longer. Most patients however, are prepared to undergo some discomfort as they will have been living with back pain almost constantly for period of time anyway.
There are some risks involved with spinal manipulation such as the possibility of feeling nauseous or getting a slight headache following treatment. These symptoms can be treated using medication and should not last very long.
Other more serious effects can be very serious so it is vital that you receive your treatment from someone with experience and propert training.
What is the Cost of Manipulation?
Although the treatment is available through the NHS it is possible to book a private course of treatment which may incur a shorter wait. Because of the associated risks of the treatment it is important that you seek a reputable therapist - asking for a recommendation from your GP is the best option.The costs of booking a private session are very variable and may depend on your location, the expertise of the specialist and the package of treatment you require. Costs can range from £50 for an initial assessment, up to £150 for an assessment and single treatment. Of course if you decide to see a chiropractor and then a physiotherapist the costs will be higher.
Spinal manipulation is now an approved method of treating back pain for those with mechanical problems relating to spinal alignment. It involves a specialist using techniques to try and encourage the spine in to it's natural and straightened position.
You might also like...