Why Some Back Pain Doesn't Go Away?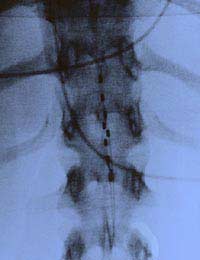 Having a slipped disc is a painful experience. The soft discs between the spinal vertebrae are there to cushion the spine, acting as shock absorbers. When one disc, or more, slips out of place, the bones are free to grind together. Slipped discs can occur as a result of an accident, or because of lifting something very heavy. Once the damage is done, it can be repaired and can heal well, but the pain is still there.
Continued chronic pain after back injuries can happen because the nerves that supply the spinal cord are damaged when the disc slips out. They recover, but not completely, and instead of only feeding pain signals to the brain when there is a problem, they do this all the time. The result is constant pain but with no real cause. Treating this type of chronic back pain can be extremely difficult.
Pain Killer Overuse
One common problem that many people with chronic pain after back injuries experience is dependency on painkillers. The pain in the back can be intense and unrelenting, making movement, work and sleep all very difficult. To get a few hours sleep, the person affected will try to take painkillers but can over do it. Instead of limiting painkillers to a few days, they take the maximum dose constantly. This usually results in the pain killing drug losing its effect over time – but stopping the drug makes the pain even worse. People whose pain is so bad that they need to be treated by morphine are in even more danger of getting addicted.
Spinal Cord Stimulation
A new technique that has been tried recently in patients with this problem is to stimulate the spinal nerves to keep them occupied so that they can't feed pain signals back to the brain. This works very well in some people, and is a treatment that can completely transform everyday life. External stimulation of the nerves can have a dramatic effect but the device, which is just worn, needs constant adjustment to keep the signals at the right intensity to take the pain away.
Spinal Cord Implants
A very new technique that has only just been tried in one person in the UK is to use an implantable device that releases the spinal cord stimulation. The device is small and runs on batteries and can be implanted under the skin near to the spine, either in the lower portion of the back, or in the back of the abdomen. The RestoreSensor, developed in the UK, was released for use for the first time in May 2010 and has just been implanted into an agricultural worker who damaged his back lifting heaving equipment 8 years ago. After being in constant and disabling pain since 2002, he had the operation to implant a RestoreSensor into his back in June. Just a few weeks later, he reports that it has completely transformed his life and he has been able to sleep again for the first time since his injury.
The RestoreSensor is unique because it contains an accelerometer, which can detect the position of the person in which it is implanted by sensing gravity. It automatically adjusts is settings and the stimulation provided to the spinal nerves on a minute-by-minute basis, so the pain never returns. Apparently, it can feel like a mild tingling sensation from time to time but this is a vast improvement from the usual severe back pain.
Future Treatment for Chronic Back Pain
More patients will now be given the option of having the stimulator fitted but this is not just for any ordinary back pain. The operation can cost as much as £25 000, so there must be medical grounds and some evidence that it will help each individual patient who receives it.
Back Pain Expert is sponsored by Purely Energy, who have funded a lot of our content. If you are looking for a low cost business energy supplier, take a look at their website.
BACK PAIN EXPERT IS FOR SALE.
This website is for sale [more info].
You might also like...