Types of Surgery for Back Pain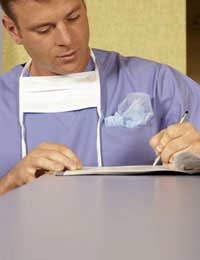 Surgery for back pain is generally not recommended unless all other options of treatment have been tried and unless emergency surgery is required.
There are different types of surgery for different diagnoses.Surgery can fall into 3 main categories; nerve decompression, fusion of bony segments and deformity correction.
Nerve Decompression
This is usually indicated in older people whose spinal conditions are causing nerve irritation or damage. Spinal stenosis means narrowing of the spinal canal caused by enlarged ligaments or bony growths. This can result in the nerves and sometimes blood supply being compromised or compressed.
Fusion of Bony Segments
A spinal fusion can involve two or more bony fragments or entire vertebrae being fused together using metalwork. This provides strength and stability to the spine and relieves pain.
Correction of Deformities
These may be congenital deformities or caused by traumatic fractures. Removal of bony fragments or stability provision for the spine may be needed.
Types of Procedures
Discetomy
The intervertebral discs can herniate or tear. Surgery can involve the entire removal or partial removal of the discs. It is a largely successful procedure but patients must be aware that the surgeon cannot guarantee that all of the necessary fragments will be able to be removed. By removing these structures, pressure and irritation to nerves and blood supply will be relieved. In the incidence of the removal of the whole disc, a need for either a spinal fusion or implant of prosthetic disc may be required.
Recovery is usually around 4 to 6 weeks, though returning to work is dependent on the nature of the tasks that will be performed. Assignment to alternative duties may be required for a short period.
Spinal Fusion
A spinal fusion may be needed following the removal of a whole vertebral disc, if there is evidence of a spinal fracture or if another condition had caused the vertebrae to become unstable, such as a developmental deformity.
Usually a spinal fusion will involve the vertebrae being united by bone grafts, being strategically placed to provide additional support and something that will be necessary for the healing process to take place. In addition, metalwork may be used to create further strength for the healing bone.
Recovery can vary greatly and is dependent on many factors. The age of the patient is indicative of the recovery time, the reason for the fusion and whether the surgery involved fusion of two or more bony segments, all alter the recovery process. In general recovery can be anything from 6 weeks to 12 months.
Laminectomy
A laminectomy is performed to relieve pressure on the nerves and spinal cord, usually caused by spinal stenosis or disc herniation.
The surgeon removes or trims away excessive lamina (layer of the bony part of the vertebra) in an attempt to provide more space for the nerves within the spinal canal.
Recovery can take between 8 weeks and 6 months depending on the severity of the condition and overall health of the patient.
Removal of Tumours
Surgical removal of tumours is mainly used in the treatment of benign growths. It is performed to prevent further enlargement of the growth and to relieve associated pressure from the nerves. In the case of a malignancy it is done to prevent the spread of the malignancy to other anatomical parts.
Recovery is dependent on the size of the tumour, pre-operative health of the patient and whether other medical referrals are needed, for example to oncology or radiotherapy.
Vertebroplasty
A vertebroplasty is used for stabilisation of the spine. It involves the use of a cement-like substance being injected into the crumbling bone of the vertebra caused by osteoporosis. It can treat or prevent fractures occurring. Vertebroplasty is a relatively new procedure in the UK.
Surgery is the last resort for the treatment of back pain as there is no guarantee that the problem will be solved or that further complications will be prevented.
The decision to undergo surgery must come after all other possible alternatives and thorough discussion has taken place between the patient and the orthopaedic specialist.
Back Pain Expert is sponsored by Purely Energy, who have funded a lot of our content. If you are looking for a low cost business energy supplier, take a look at their website.
BACK PAIN EXPERT IS FOR SALE.
This website is for sale [more info].
You might also like...