Children and Back Pain
By: Suzanne Elvidge BSc (hons), MSc - Updated: 14 Feb 2013
|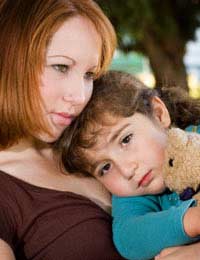 Back pain in children is less common than back pain in adults, and unless it's caused by an obvious strain or period of overuse, it can be a sign of a more serious condition.
Muscle Strains
In children, back pain caused by muscle strains, caused by overuse, falls or sports injuries, is generally not associated with any other symptoms and should get better within a week or less, helped by over-the-counter painkillers. If a child has symptoms other than back pain, such as an increased temperature, problems with controlling their bladder or bowels, weight loss or any problems in his or her arms or legs, such as tingling, problems with walking, loss of feeling or loss of strength, he or she should see a doctor immediately.
Scoliosis
Some children develop scoliosis (curvature of the spine) as they grow. This is generally symptomless, but can cause mild back pain in occasional cases. Mild cases are left untreated – moderate or severe cases may be treated with back braces or surgery.
Spondylolysis
Spondylolysis, a stress fracture in one of the vertebrae (bones of the spine), usually in the lower back, is generally caused by overuse, especially during a growth spurt. It is most common in children playing sports that involving arching the back, such as fast bowling in cricket, playing tennis, gymnastics and ballet dancing. A tendency to spondylolysis can run in families.
There may be no symptoms, or symptoms can be of an aching back. If treatment is required, it includes rest, perhaps with a back brace, and exercises to strengthen the lower back. Severe cases may need surgery.
Spondylolisthesis
Spondylolisthesis happens when a vertebra slips forward over another one. There may be no symptoms, or symptoms can include pain in the lower back and legs, and muscle spasms and weakness. The most common cause of spondylolisthesis is spondylolysis, or some children can be born with spondylolisthesis.
Spondylolisthesis may not need treatment, or it may be treated with rest (maybe with a back brace) and painkillers. Serious cases may be treated with surgery.
Scheuermann's disease (Juvenile Kyphosis)
Scheuermann's disease is a deformity of the spine caused by a problem with bone growth in the vertebrae, which may be inherited or may result from an injury or overuse. It is rare and generally seen in teenagers. It makes the back more rounded than it should be, causing back pain and problems with posture, which makes children appear shorter and fatter than they actually are.
Infection
Discitis is an infection in the spaces between the vertebrae and vertebral osteomyelitis is an infection of the vertebrae themselves. These cause serious back pain, reduction in mobility and fever.
Kidney infections can cause back pain. Other symptoms include fever and pain on urination.
Juvenile Rheumatoid Arthritis
Juvenile rheumatoid arthritis is an autoimmune disease (where the immune system attacks the body's own tissues). Symptoms of juvenile rheumatoid arthritis include back pain, joint pain, heat and swelling in joints, a rash and fever. Treatment includes painkillers, anti-inflammatory drugs and disease-modifying antirheumatic drugs (DMARDs).
Tumours
Tumours in the back can be benign or malignant (cancerous). They can cause back pain, and may be treated using surgery, chemotherapy or radiotherapy.
You might also like...