What is Sacral Agenesis?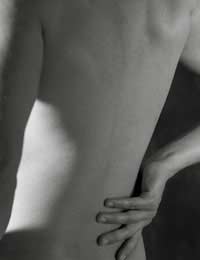 Sacral Agenesis is a very uncommon disorder meaning a congenital deformity of the sacral area (the lower part of the back just above the coccyx or tailbone).
Some times called 'hypoplasia of the sacrum' it is suggested, though not entirely proven, that it is caused by a maternal lack of folic acid, or other nutritional deficiencies.
This area of the spine is usually developed half way through the first trimester of pregnancy, so experts believe that this deformity develops in the 4th-6th week of foetal growth.
There are different types of sacral agenesis where the malformation can be a partially formed sacrum on one side, a bilateral deformity or even a total absence of the sacrum.
In recent years these deformities can be diagnosed during a foetal scan during pregnancy and the parents may be offered a variety of options in order to manage the pregnancy.
Before the general use of scans, sacral agenesis was noticed at birth after the infant had its first physical examination. Once a diagnosis has been suggested, an x-ray is usually performed in order to confirm the diagnosis, and a treatment plan can be devised.
Occasionally there can be the interference with bowel and/or bladder function, sometimes with total incontinence. Methods to control this have to be planned as soon as possible, even if still an incontinent baby.
Many sufferers have lower extremity deformity in their hips, knees, legs and ankles, sometimes, though not often, needing amputation to achieve a better quality of life.
There is occasionally a lack of motor function of the lower body and mobility can be reduced.Sacral agenesis can cause an overall spinal/pelvic instability and this is associated with scoliosis and hip dislocation, which need to be addressed as soon as discovered.
Treatment of Sacral Agenesis
Although the actual deformity cannot be treated, the consequences of suffering this disorder can be treated. As mentioned before, a suitable continence control system can be planned for each individual to help with gaining a better quality of life.Some sufferers of sacral agenesis have a tethered spinal cord that modern medicine has now found it can treat surgically, which may contribute to having greater continence control. Ask for a referral to a specialist who can discuss this option with you.
Counselling or therapy may be indicated for some sufferers, especially as the teenage years are approaching. Support groups can allow people to express themselves without the feelings of external judgment from others, plus a sense of belonging and understanding from fellow sufferers.
Children should be made aware of their condition as soon as possible, though an issue should not be made of it. This will help them come to terms with the deformity gradually, especially if they are actively involved with making decisions about their health.
Every individual manages their medical problems in their own way, fortunately in modern society there is a wealth of therapeutic sessions and counsellors that can help sufferers address any question they may have.
Sacral agenesis is a deformity developed before birth. Fortunately it has a low incidence rate and there is no reported connection to genetic predisposition.
Medical research is being developed every day, so hopefully in the future there will be a greater understanding of its causes, therefore its prevention.
You might also like...
I have been suffering from degeneration of the spine for many years, and haherniated disc two years ago. I would love to hear from others. Constant pain isnt easy to live with