Scheurmann's Kyphosis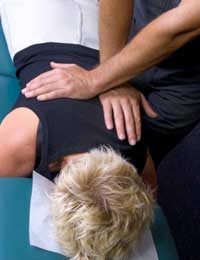 Sometimes referred to as Scheurmann's disease Scheurmann's kyphosis, is a condition that results in the sufferer having a rounded or 'hunched' back. It is a developmental disorder and causes the sufferer to walk with a forward stoop and does not correct itself when lying on the back.
Affecting up to 8% of the general population, and being more prevalent in boys than girls, Scheurmann's kyphosis occurs mainly in the thoracic region of the spine, typically between the levels of T7 and T9, this type of kyphosis presents usually during adolescence and is caused by growth irregularities of the spinal vertebrae. As the vertebra are developing a condition called osteochondrosis causes the anterior and posterior (front and back) sides of the vertebrae to grow at different speeds. This results in the vertebrae developing into wedge shapes.
Symptoms
Characteristic bending forward, severity varies from person to person and can be very slight or extremely noticeable.Sufferers do not usually suffer with a great deal of pain, but can have discomfort. As age brings conditions such as arthritis, it is normally then that pain is experienced.
Diagnosis
Doctor's must first determine whether any spinal curvature is due to bad posture alone, and not a developmental problem.Diagnosis is usually confirmed after a thorough physical examination, with diagnosis confirmed with the use of x-rays.
Treatment
The course of treatment recommended by Doctor's is very variable. If the sufferer is young, reasonably fit with no pain, often strengthening exercises and frequent monitoring of the progression of the condition is all that is necessary.
Some Doctor's advise their patients to try a back brace, which is used to help straighten and strengthen the spine. It is also useful if worn by adolescents as a back brace relieves the pressure on the vertebrae and may allow for the growth differences to partially correct themselves, lessening the curvature.
The disadvantage to using the back brace in children/adolescents is a matter of compliance. It can initially be quite uncomfortable and can take several weeks to get used to wearing it, as it has to be worn for between 16 and 20 hours a day, and can be cumbersome in partaking in everyday activities and is noticeable when being worn.
Surgery is available to help this condition but other methods are usually tried first. The type of surgery offered is called a spinal fusion, where two segments of bone are fused together with the use of rods, cages and screws. Surgery is usually only offered if the curvature is very severe, if neurological problems have arisen or if pain is becoming increasingly worse and cannot be managed by other methods.
Psychological Issues
Teenage years are usually difficult without any additional problems, so for those diagnosed with Scheurmann's kyphosis, the participation in therapy, education and support groups is recommended.
The provision of leaflets and patient information is essential as a teenager will learn to cope better with their diagnosis if they are fully informed and involved in the decision making choices of their treatment.
Scheurmann's kyphosis is a developmental disorder that is usually diagnosed in adolescents. There are a range of available treatments, but if the patient is coping without any intervention, exercise and mild pain relief are usually adequate provisions.
You might also like...
I am sorry to hear you suffer from Scheumanns disease...Most of my Family sufers with this...My brothers and they have found out that the children also suffer from it...Is there a support group in your area???.I do not have the disease but also suffer back pain with osteorthritis...Feel free to keep in touch...My name is Sue
susi
- 5-Jul-12 @ 1:04 PM
I am 56years old and I was born with Scheurmanns disease. I am now disabled with osteoarthritis taken over most of my joints and I am taking over 30 tablets a day.so if any adult suspects that their child has it get medical help as when i was first diagnosed with not much was done about it or evrn known about it
NONE
- 6-May-12 @ 11:26 AM