Can Shoes Cause Back Pain?
By: Suzanne Elvidge BSc (hons), MSc - Updated: 21 Nov 2012
|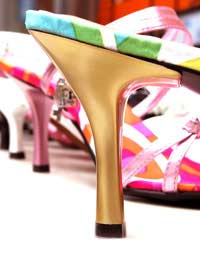 A beautiful pair of shoes or boots is an essential part of looking great, and makes the person wearing them feel really good. Wearing high heels, or any shoes or boots without cushioning or support, is fine for short periods, but wearing them all the time can cause back pain, and may even lead to long-term back damage.
High Heels
High heels make people's legs look longer and more slender, and can be very attractive. The downside of them is that by pointing the foot downwards (a plantarflexed position), wearing high heels changes posture. In order to balance, the lower part of the body bends forwards and the upper part bends back. This increases the normal gentle curve of the spine and alters the tilt of the pelvis, which puts pressure on the muscles and joints of the spine. Wearing high heels all the time can change the posture permanently, shortening some muscles and tendons (the tissue connecting muscles to bone).
Flip Flops
Flip-flops, flat sandals with a single toe post, are cool and comfortable in hot weather. Because they have no support, and because they require the wearer to scrunch up his or her toes to keep them on, some flip flops can change the way that people walk, which can lead to back pain, as well as foot and leg pain. Some flip-flops and mules however, are shaped to support the foot.
Cushioning
Some shoes, such as very flat pumps or sandals, may not provide much cushioning, and so when the foot hits the ground, the shock of the impact travels up the leg to the spine, stressing the joints in the back, the discs between the vertebrae (the bones of the spine), and the ligaments (the tissue connecting bones to other bones).
Stability
Some shoes make the foot wobble around, such as high heels or platform shoes. These can put a strain on the spine, causing back pain, and can make people more likely to fall, which could cause a back injury. Especially when walking on uneven ground, such as in fell or trail walking and hill climbing, it's important to wear a shoe or boot that protects and supports the foot and ankle, such as a specially designed walking shoe or hiking boot.
What's The Solution?
It's a good idea to try to alternate different styles of shoes on different days, changing the heel height and type of shoe regularly to allow muscles and joints to recover. For example, high heels do look good, but they could be kept for special occasions or just worn at work, while wearing other shoes or trainers for the journey in and home. For people who want to wear them all day, high heels could be worn one day and comfortable, supportive and well-fitting flat shoes with cushioning worn the next – chosen carefully, these can still look great.
On days that might require a lot of standing or walking, shoes with a lot of support and cushioning will be better for the back than heels, very flat shoes or flip-flops.
BACK PAIN EXPERT IS FOR SALE.
This website is for sale [more info].
You might also like...